4 Positives From Arsenal's 2-1 FA Cup Victory Over Man Utd
Arsenal booked their place in the quarter finals of the FA Cup with a 2-1 win over Man Utd at Old Trafford on Monday night. Here are 4 positives from Gunner333
Arsenal booked their place in the quarter finals of the FA Cup with a 2-1 win over Manchester United at Old Trafford on Monday night. Here are 4 positives from Arsenal fan Gunner333….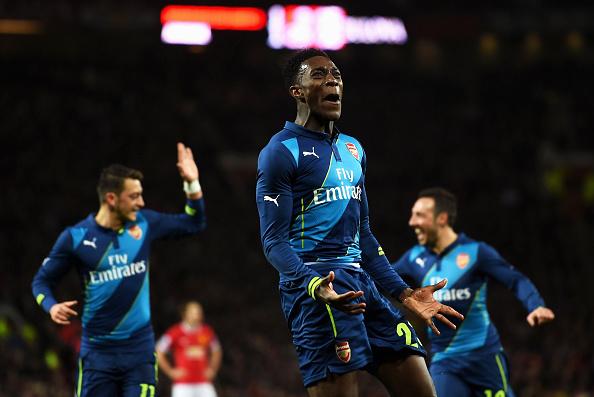 With Arsenal's bid for another top-four finish gathering momentum in the league after the mid-week win at QPR, attention would be directed towards a much-anticipated cup clash away to Van Gaal's United. The most realistic chance of silverware this season for both sides, this was a clash to prioritise and Wenger freshened up the side with five changes. Welbeck would spearhead the attack in place of Giroud, Oxlade-Chamberlain came in for Rosicky, whilst Monreal, Koscielny and Szczesny would also start.
In a tense atmosphere, neither party looked particularly promising in the opening stages, that is until Arsenal broke the deadlock moments before the half-hour mark. Oxlade-Chamberlain dancing through the static United defence before finding Monreal on the far left, the Spaniard capitalising on the opportunity to fire home his second goal for the club with a cool finish.
Any Arsenal celebrations were to be put on a hold though, with the hosts responding excellently to chalk up the equaliser less than three minutes later. Di Maria exhibiting signs of his former-Madrid self with a divine cross, which Rooney dispatched with a trademark header to level the scores.
Game all square at the break, it would be a tight second half for the two sides. So close it was in fact, that the winner would come courtesy of a defensive blunder. Valencia showing a lapse in concentration when dealing a soft pass back to De Gea, Welbeck intercepting to knock it around the Spaniard and tuck away an Arsenal second. Sweet revenge for the United youth product who scored against his old side, after being deemed surplus to requirements in the Summer.
As if having a former player returning to haunt them in a vital cup encounter was not bad enough for United, their misery was compounded in the game's latter stages. Di Maria petulant in pulling official Michael Oliver's shirt in frustration at being booked for diving, which resulted in a sending off for the Argentine.
Full time and the FA Cup holders will advance to the semis via Welbeck's winner, where they will face either Bradford or Reading. A superb result which was full of positives from the Gunners, four of which I shall now discuss.
Big game result
Arsenal fans everywhere have grown accustom to seeing their slide flop in big games, namely against United. Given that the quality has always been there to overpower the Red Devils, it is evident this winless streak has come as a result of a mental blockage; which we have now overcome.
It helps of course that United are not the force they once were, but this was a crucial victory for our current crop who have been starved of results on the road to bigger clubs and this stumbling block has now been surpassed in excellent fashion. The side were far more patient than previously in big games and kept tabs on United's front-men, switching off just the once. Meanwhile, the midfield did not stutter in a big occasion and played their normal flowing football; finally it seems there is no more fearing a trip to Old Trafford.
Welbeck's Sweet Strike
So a wave of confidence may have swept through the ranks with this victory for Arsenal, but few would feel greater joy after the result than front-man Welbeck; whose goal will dig at United fans for weeks to come.
Some will feel the treatment of the England striker in the Summer was poor on Van Gaal's part, with the loyal, boy-hood United fan offloaded without thought to Arsenal. His career has somewhat fluctuated since arriving but his capitalisation on Valencia's error should do wonders for his game. Although a golden opportunity, it took instinct and pace to round De Gea and squeeze in a shot, which once again earns him brownie points ahead of Olivier Giroud.
Fans can criticise the boy's decision to celebrate all they want, but the goal was of great importance and feelings would be hard to contain in the circumstances.
'Picking' Holes
Important especially when playing sides of such quality, finding weaknesses in Man United's game proved key to the result. Fortunately, it was no Herculean mission to find these faults and one weakness in particular presented itself in the multi-million pound package of Angel Di Maria.
Caught out of position on a number of occasions, the Argentine failed to track-back regularly, preferring to drift inside, and Monreal found it no problem to glide past Valencia, with the Ecuadorian lacking cover. The first goal came from this approach and the frequent exchanges and movement made by Sanchez and Monreal down this flank told for a flustered Di Maria, who eventually erupted and was sent packing with a red.
Defensive unity
Each individual advance was read brilliantly by the Arsenal defensive unit all game long and, had it not been for a rare moment of United quality, a clean sheet would have been a dead cert. Since the devastation against Monaco, worries will always crop up at the sight of Mertesacker's name gracing the team sheet but on Monday his lack of pace was no worry as the team's back-line moved in unison, almost like clockwork.
It was a case of simple concentration coming to fruition and each and every player dug deep to retain possession or regain possession before Man United could play the ball into any dangerous areas. Generally, a case of 'wanting it more than the opposition' from the Gunners, which is a greatly pleasing sight.
The next item on the agenda is a league meeting with West Ham and let us hope that great confidence can be drawn from the win at Old Trafford and be used to fuel our top-four challenge in the remaining months to come.
Other News
Liverpool are at St Mary's tonight knowing they need a win over Southampton to...

Manchester United are one of the best placed clubs to sign Benfica forward Darwin...