4 Reasons Arsenal Are Chelsea's Biggest Threat after 1-0 Win at Turf Moor
Arsenal secured a narrow 1-0 victory over Burnley at Turf Moor on Saturday. Here, Gunner333 gives us 4 reasons why Arsenal are Chelsea's closest rivals
Arsenal secured a narrow 1-0 victory over Burnley at Turf Moor on Saturday evening thanks to an early strike from Aaron Ramsey. Here, Gunner333 looks at the game and gives us 4 reasons why Arsenal are Chelsea's closest rivals….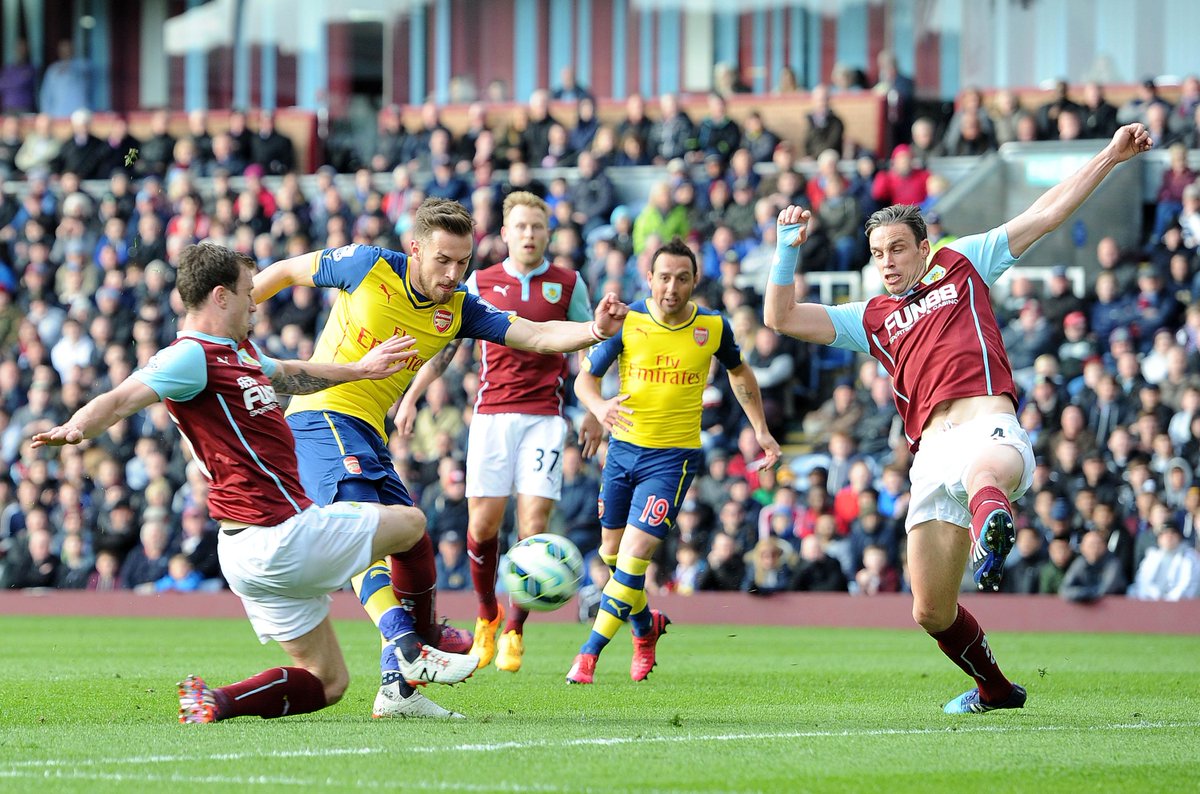 Usually the time of season where the title race is brought to the boil, Arsenal are fast looking like the only side capable of posing a threat to Mourinho's leading pack. Victory at Turf Moor would make it an eighth successive victory; a feat achieved by no other side so far this Premier League season.
Fresh from a 4-1 demolition of Liverpool, the Gunners have all but confirmed another season in Europe's elite competition, but Wenger remained positive in his team selection, making no changes from last week's victors.
Ospina was alert to snuff out Jones' attempted through-ball to Vokes in the early stages, but as the game unfolded Arsenal became increasingly confident and were beginning to take a strangle-hold of possession.
The inevitable goal did come, perhaps earlier than one may have expected. Shackell's aimless lofted pass, collected by Coquelin, triggered an invasion of yellow shirts into the Burnley box. Mesut Ozil first saw his shot saved before Heaton denied Sanchez's follow-up attempt. The rebound fell to Ramsey, who netted his ninth of the season.
Tight defending from both parties restricted any attacking flow, meaning the clearest openings came via set-pieces. Trippier's imposing free-kick firstly producing superb reflexes from Ospina to deny, before Cazorla's curling effort came close.
No more goals were scored in the second half so Wenger's side would hold on to secure all three-points. An excellent string of results of late and there's no doubt this victory once again proves why Arsenal are the closest to de-railing Chelsea's assured title push, for a number of reasons…
1) Monaco Bounce-back
Undeniably, Arsenal have put together an exceptional run of form of late. While some sides have begun to flop at the season's latter stages, Arsenal have been quite the opposite and are getting it right just when it matters.
Perhaps rather surprisingly however is the nature in which Wenger's side formed this great trail of results, off the back of the darkest moment of the season; the capitulation to Monaco back in February. Since losing 3-1 at the Emirates, Arsenal have won all eight games in all competitions. Who would have thought that result would ignite such an impressive run?
It seems the fall-out from that loss and our ultimate exit from the Champions League has led to a new approach from Arsenal and this has resulted in our stunning run of form.
2) Home Comforts
Arsenal will play at home in four of our remaining six Premier League game and this gives us a huge advantage over our rivals. Our next league game is the crucial fixture, when we entertain Chelsea at the Emirates on April 26th, and victory here will keep us hanging on in the title race. After a trip to relegation threatened Hull, we face Man Utd at Old Trafford and if we're still within touching distance by the penultimate game, we have back-to-back home games against Sunderland and West Brom to finish off the season.
Those home fixtures could prove crucial and we have one of the best home records in the division so should be confident of securing all three points whenever we play at the Emirates. If we are to mount any late push for the title, then maintaining that home form will be key.
3) Goal-Scoring Threat
An impressive six players have registered five or more goals this season, with the majority being shared between Olivier Giroud and Alexis Sanchez. Few clubs can claim that nearly all of their side are able to find the net, but this is one factor many Arsenal fans are proud of.
The truth is, you will not make an Arsenal starting-eleven if you don't have the desire to get on the scoresheet and although the Frenchman Giroud and Chilean Sanchez both started, the goal came from midfield in a game where Burnley proved tough to break down.
It is paramount that Arsenal do not become dependent on any one single player and given the unselfish style of play in the final third, I'm sure that is unlikely.
4) High Confidence
The team is playing with such confidence right now that we look like we can win every game we go in to. We know when to push for a second or third goal, like we did against Liverpool, and we know when to shut up shop and see the game out – even if it's holding on to a one-goal lead as we did in recent wins over Burnley and Newcastle.
The early-season Arsenal may have bombed forward in the final twenty minutes to try and kill the game off but now the players are confident in their ability to see the game out and keep things tight at the back when needed.
The FA Cup run has also helped with the confidence level as it's maintained our winning run and the players have another trophy in sight. This keeps them mentally focussed, which is the opposite of what the likes of Manchester City look right now.
With Chelsea securing a lucky 1-0 win at Queens Park Rangers earlier this afternoon, they are now seven points clear with a game in hand but they aren't playing particularly well and with games against Man Utd and Arsenal up next, we could still manage to close that gap and make it an exciting end to the league campaign.
Even if we don't pull off a miracle and win the league this year, our sensational second half of the season form shows we'll be Chelsea main threat for the title next year.
Thanks for reading and feel free to comment below.
Other News
Manchester United will need to pay at least £38m up front to sign PSV...

Casemiro is scheduled to undergo a medical this weekend and will sign a 4-year...