Why The Antics Of Diego Costa Annoyed Arsenal Fans So Much
Simon Winson takes a look at why Diego Costa's antics during Chelsea's 2-0 win over the Gunners at Stamford Bridge annoyed Arsenal fans so much.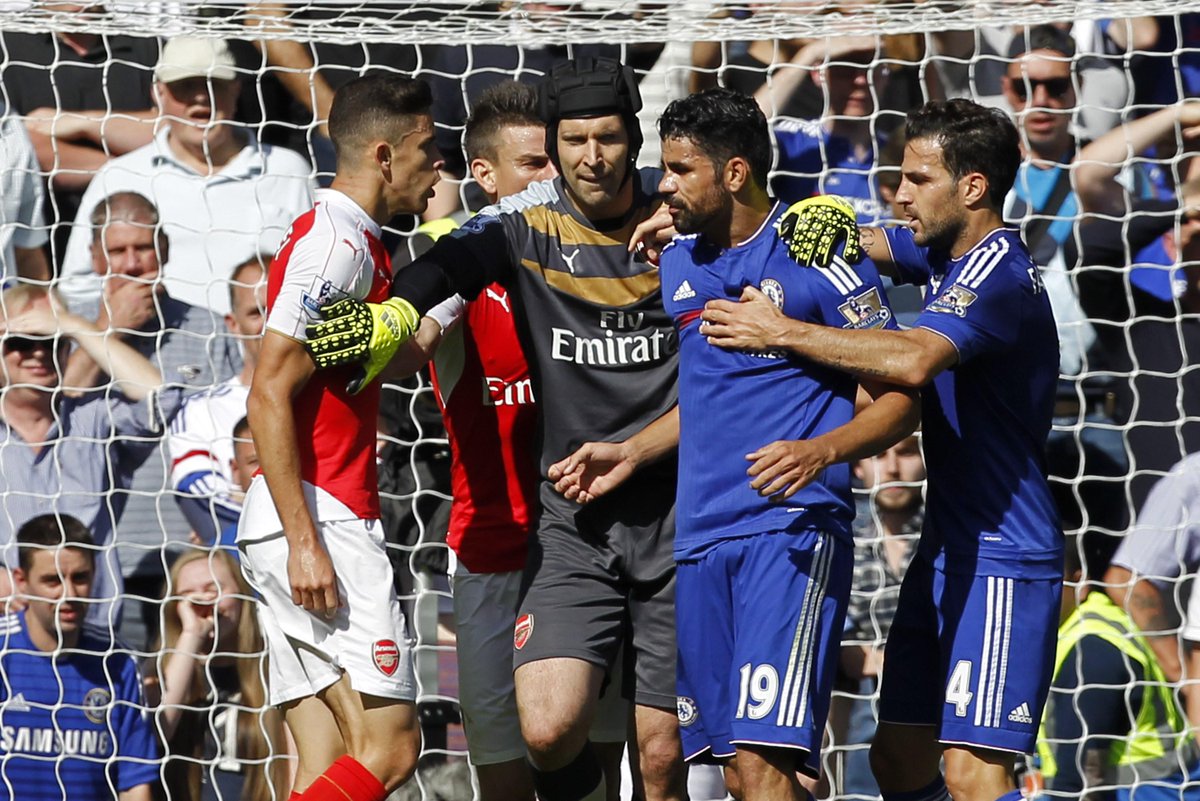 During the Arsenal v Chelsea game on Saturday lunchtime Arsenal fans took to social media to condemn Diego Costa for his performance throughout the match. Whilst Chelsea fans were pleased with the result which saw back to back wins following their Champions League victory midweek and their stuttering season potentially turning a corner, it was Arsenal supporters left to rue consecutive defeats after their defeat in Zagreb and now at the Bridge.
The question however asked of all Arsenal fans is "why did Costa's performance anger so many of you?".
The obvious answer to this would single Costa out as a bully who was clearly looking for a fight; was Costa being too hot headed getting involved with Gabriel and Koscielny or was he simply playing them looking for a reaction. The fact of the matter is Costa played his pantomime villain role superbly. Things could quite easily have gone against him after his ugly confrontation with Laurent Koscielny should the officials have spotted their spat but as things had it, he did his job of getting a reaction out of the opposition to the extent Arsenal were down to 10 men on the stroke of half time.
Costa's actions shouldn't be condoned, but ultimately his desire to fight for his club helped Chelsea get three points and that fire in his belly is something Arsenal have been missing for some time. The way Costa puts himself about and scores goals makes him easily Mourinho's first choice striker. A quick trip to North London and you have Wenger not knowing what his strongest attacking options are. Arsene's failure to sign a top quality striker during the summer still remain at the forefront of Arsenal supporters minds. The unwillingness to add outfield players to a squad that has struggled to maintain form in the league and go further than the second round of the Champions League frustrated many in the summer.
On the one hand Arsene should be praised for not panic buying and throwing money at a striker he feels wouldn't add anything to the current crop of players. On the other, he needs to change tactics when it comes to recruitment as finishing third or fourth in the league coupled with an exit from the Champions League in the second round shouldn't be viewed as a successful season.
Wenger has now arrived at a point where he is unsure of what his starting 11 will be. The constant swapping of Giroud and Walcott through the middle, neither to great effect will do nothing for confidence. Walcott has suggested his favoured position is through the middle and Wenger has reacted by pulling him off the wing to ease the load off Giroud with small degree of success. The fact Walcott can play up top on his own in front of Giroud cries out the need to sign a world class striker. I feel Giroud has done a great job for the last few seasons and has scored goals but misses too many chances, something the French realised during a recent friendly as he was booed from the field after missing a hat-full of opportunities. Sanchez was a revelation last season but has started this season slowly and with the injury to Welbeck and only really Joel Campbell as a viable third choice striker, the options up front look thin on the ground and goals could be hard to come by.
A lot of the rumours during the summer surrounded Karim Benzema but was he really ever likely to leave Real Madrid? Arsene should have taken a trip to Napoli to enquire about the availability of Gonzalo Higuain, a striker who has scored goals in Spain and now in Italy. He has the attributes and the undoubted quality to lead the line with support from Sanchez, Ozil and Ramsey to turn Arsenal into contenders across all formats.
Returning to the initial argument, had Costa been playing for Arsenal and performed as he did against Chelsea to secure the points, would Arsenal fans be ridiculing his performance or praising him for his efforts and contribution to the victory? Arsenal fans might suggest the former but the fact remains Arsenal are in need of someone up front to show that passion and aggression and goal scoring capabilities, and the performance of Costa has simply highlighted the major weakness with Arsenal this season.
By Simon Winson @simonwinson
Other News
Chelsea are one of the most interested clubs in signing Napoli defender Kalidou Koulibaly,...

Arsenal are in talks over deals to sign Gabriel Jesus and Youri Tielemans as...