[Tweet] Chelsea Star Responds To Reports Of Training Ground Bust-Up With Team Mate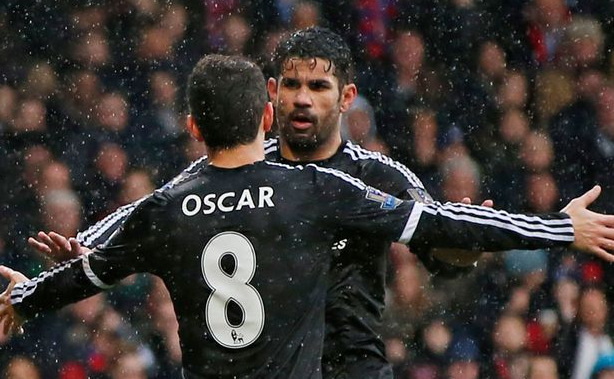 Chelsea midfielder Oscar has taken to Twitter to play down reports that he was involved in a training ground bust-up with teammate Diego Costa.
The Mirror reported on Thursday that the pair were involved in an ugly confrontation during training yesterday and had to be separated by team mates and coaching staff.
The paper claimed that Costa was left incensed after Oscar caught him on the knee with what was described as a 'hefty' challenge during a routine training session at the Blues Cobham training base yesterday.
The report suggests that Costa responded with an x-rated tackle of his own which led to the pair clashing in an ugly confrontation with one witness telling the newspaper that Oscar was struck up to three times by his team mate before players and coaching staff dragged the duo apart.
Chelsea deny that any punches were thrown and Oscar has now taken to Twitter to try and play down the reports, with the Brazilian international insisting he would never fight one of his 'best friends'.
Oscar tweeted:
For those who are talking to me and @diegocosta struggle today in training he's lying, he's one of my best friends and never fight

— Oscar (@oscar8) January 7, 2016
Training ground bust-ups happen all the time at football clubs so it's really not that big of a deal, but understandably the club and players have to play down the reports. Especially Chelsea given how their season has gone so far.
I wouldn't be surprised if there was a bit of a bust-up involving Costa and Oscar and it's also no surprise to hear that Oscar came off considerably worse from the exchange. He'd have to be mad to take on Costa.
I'm sure the Chelsea staff will be hoping the duo have put things behind them as the struggling West Londoners have an FA Cup third round clash against Scunthorpe to prepare for on Sunday.