Where Next For James Rodriguez?
With James Rodriguez looking certain to leave Real Madrid this summer, we look at whether the Colombian could be heading for Chelsea or Manchester United.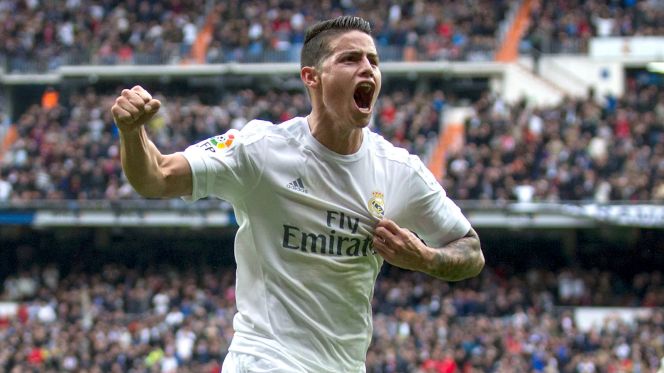 European football fanatics would have already picked up on James Rodriguez when he was lighting up Portugal with FC Porto, but it was the Brazil World Cup where the Colombian announced himself to the world.
Alongside Juan Cuadrado, James was a key figure for the overachieving Colombia, who narrowly missed out on a place in the semi-finals. Unsurprisingly he was quickly snapped up by Real Madrid, who made him their big summer signing.
Initially James looked to be settling well in La Liga, but this season he has slipped down the pecking order, and his speeding charges have thrown a shadow over his time at the club. With Zidane now in charge of the side, Real now have a manager whose status in the game gives him far more sway with players, and indeed Perez, than many of his predecessors. This means players are no longer picked based on name, and tactical suitability has become the primary concern.
Under Rafa it felt as though pressure from above meant that the chance of Casemiro starting in a Clasico was lower than winning the lottery, but that has all changed. Because of his decline in form, and the presence of Zidane, James' time at Real is seemingly drawing to a close.
Two English sides have emerged as the forerunners in the race for his signature, Manchester United and Chelsea. But which one is the better option for the Colombia captain?
With Chelsea announcing the arrival of Conte, and United expected to bring in Jose Mourinho, both clubs will be in a period of great upheaval, although that won't necessarily be a bad thing for James. A new manager will pick his own team and James will have a fresh start to prove himself.
Should Chelsea actually make a move for him, it would suggest that Eden Hazard is finally leaving the club, and the idea of a swap deal between the two clubs is not out of the realm of possibility, especially considering the increasing rumours of a Ronaldo exit from Real.
At United he would likely as not replace Depay behind the striker, retaining Martial on the wing. Despite the French superstars' excellent season, it wouldn't be impossible for James to displace him.
In terms of affordability, neither club would struggle to meet his asking price, which has certainly taken a dent in the last few months. As stated before, the drama surrounding a clearly demotivated Hazard might play into Chelsea's hands should they wish to move him on.
As for Champions League football, at the time of writing neither team are heading for Europe's premier competition next season, which may dissuade James from making the switch to England, but with teams like Bayern and PSG already well covered in his position, options are surprisingly limited for him.
Other News
Chelsea are best placed to sign Sevilla defender Jules Kounde this summer, Spanish publication...

Barcelona are in advanced talks with Chelsea defender Marcos Alonso over a summer transfer,...