[Photos] Arsenal Star Reveals Gruesome Scars After His Foot Was Almost Amputated
Arsenal star Santi Cazorla has opened up about his injury hell after enduring a torrid 12 months that almost led to him having his foot amputated.
The Spanish midfielder has not featured for Arsenal since aggravating an Achilles injury during our Champions League win over Ludogorets in October 2016.
Cazorla was only initially expected to be out for a matter of weeks, however, a series of complications in his recovery led to the midfielder undergoing a staggering EIGHT operations over the coming months.
The 32-year-old has now spoken out in an interview with MARCA, where he reveals that his career was almost over after he picked up an infection in the wound that led to gangrene.
Having damaged the bone and Achilles tendon on top of a serious blood infection, Cazorla was told he'd be lucky to walk again, never mind play top flight football, and doctors even considered amputating his foot.
The playmaker lost an incredible eight centimetres from his tendon and needed to have a skin graft from his arm to cover the wound on his ankle after it kept opening up.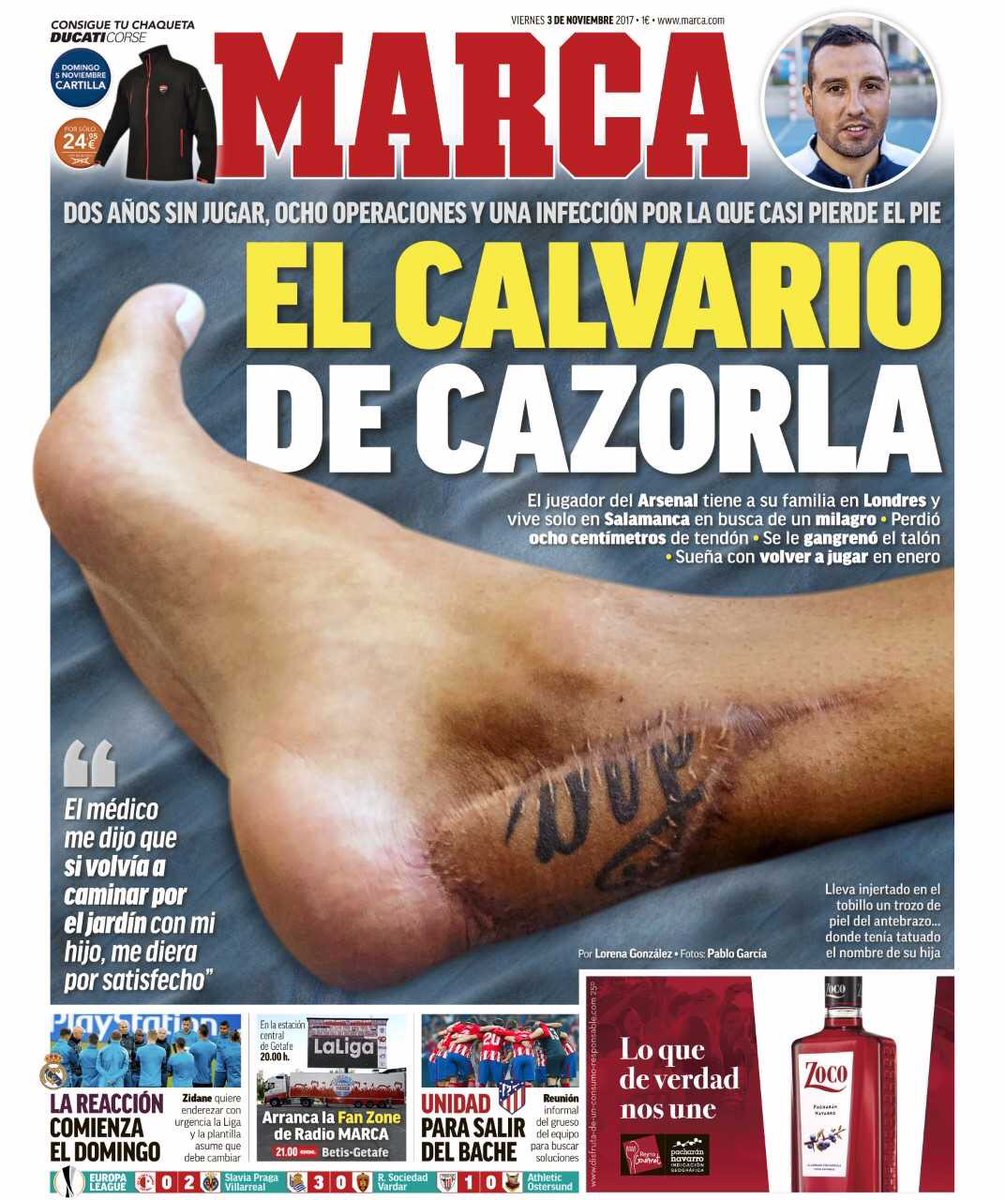 Cazorla is quoted as telling MARCA by the Telegraph:
"The problem was that it did not heal and the wounds would reopen, become infected," he said.

"He saw that I had a tremendous infection, that I had damaged part of the bone and damaged the Achilles tendon,"
Fortunately, Cazorla is now on the mend and Arsene Wenger recently said the midfielder could be back playing again in the New Year – which is a minor miracle considering what he's gone through over the past 12 months.
Let's pray Santi can continue his rehabilitation without any further setbacks and get back playing again during the second half of the season as he's been sorely missed over the last year while he's been on the sidelines.
Here are some more photos of the injury. *WARNING – GRAPHIC CONTENT