Gary Neville – Red Legend
2011 looks like it will be the year that Gary Nevile finally hangs up his boots. Unfortunately his retirement will be one which the majority of United fans will agree with. Neville has not been the same player since his injury in March 2007 however it's important to look back on his career as a whole when judging him.
Neville made his debut in 1992 in a UEFA Cup game against Torpedo Moscow and has made 602 appearances in total for the club. While Neville has been ridiculed for many years by opposing fans he has to be considered as the stand-out right back of his generation in Premier League football.
He burst onto the scene along with his fellow fledglings Beckham, Scholes, Butt and brother Phil in the mid-nineties and made his international debut in '95 in a friendly against Japan. Neville went on to establish himself as England's first choice right back over the next decade amassing 85 caps and was his countries youngest first-choice player at Euro '96.
Neville will be remembered for the partnership he had with David Beckham down United's right flank. When both Beckham and Neville were firing on all cylinders, the sight of the two of them bombing down the wing was poetry in motion. While Beckham has been heralded as the best crosser of the ball in world football Neville was never too far behind his team-mate in this regard and contributed a huge number of assists down the years.
Neville enjoyed great success from the mid-nineties to the mid-noughties winning multiple league titles and FA Cups and of course the Champions League on that famous night in Barcelona in 1999.
Disaster ultimately struck for Neville in March 2007 against Bolton Wanderers when he suffered an ankle injury which ruled him out for the next 12 months. Neville returned in April 2008 in the Champions League home tie against Roma. United went all the way to the Champions League final in Moscow where they beat Chelsea on penalties. Unfortunately for Neville there was no place in the matchday squad for him.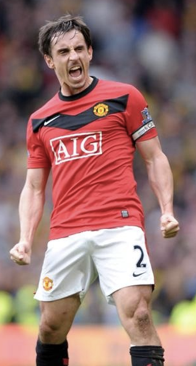 The following season was not much better for United's captain, there were always fears that he would not reach the standards he had set before his injury and these fears seemed to be confirmed in November 2008 when United lost 2-1 at the emirates to two Samir Nasri goals. Neville looked desperately uncomfortable trying to contain the Frenchman and was eventually replaced by Rafael.
It has been all down hill since for Neville. His contract expires at the end of this season and based on his performances this season you can't see any way that Fergie could possibly renew it. It is important that Neville remains at Old Trafford in some capacity though. His experience is invaluable and he breathes Manchester United.
First and foremost Gary Neville is Man Utd's number 1 fan and this was probably summed up best when John O'Shea was interviewed after scoring a last minute winner at Anfield: "The 90th minute at Anfield, in front of the Kop . . . Gary Neville's just told me that is his dream and I've just gone and done it!" Neville has often found himself in hot-water down the years. While his run down the touch-line to celebrate Rio's last-minute winner in front of Liverpool's fans and his gesture to Carlos Tevez in the Carling Cup Semi-Final have led to disciplinary hearings they are incidents that United fans will always look back fondly on.
602 Appearances, 7 goals, 9 league titles, 3 FA Cups, 2 League Cups, 2 Champions Leagues, 1 FIFA World Club Cup, 1 Intercontinental Cup. Gary Neville has been a massive part of Manchester United's history and truly deserves the title Red Legend.
Submitted by Glory Glory Man Utd
Other News
Arsenal are interested in signing Udinese defender Nahuel Molina in a player-plus-cash deal, Calciomercato...

Arsenal travel to St James' Park for Monday's late Premier League clash against Newcastle...