[Tweets] "Absolute joke" – Arsenal fans rage at VAR after late winner is ruled out
Arsenal fans were rightly left raging after seeing a late winner against Crystal Palace ruled out by a controversial decision by the VAR.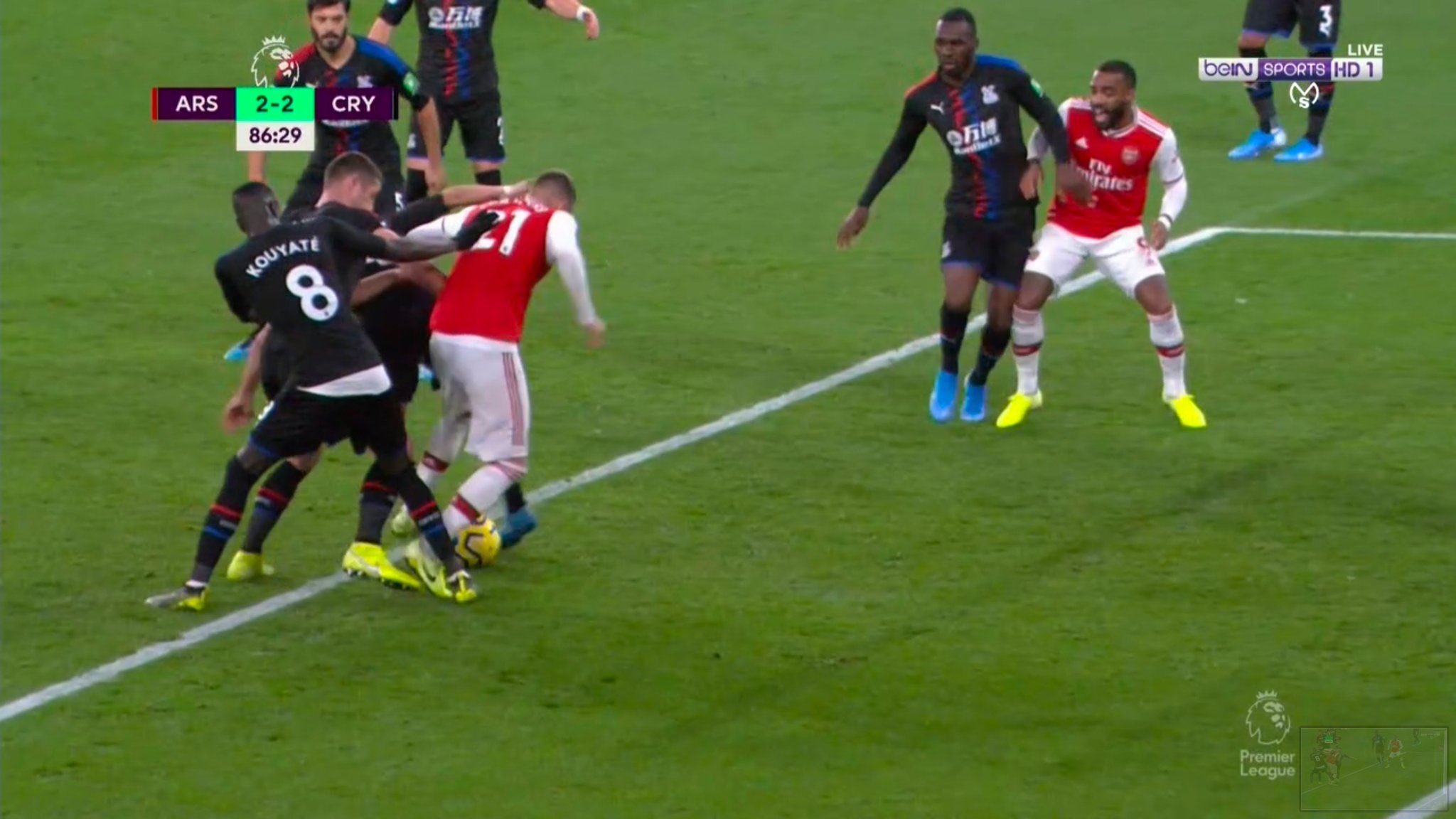 Arsenal fans were rightly left raging after seeing a late winner against Crystal Palace ruled out by a controversial decision by the Video Assistant Referee.
It looked as though Arsenal were heading towards a comfortable victory this afternoon when Sokratis opened the scoring in the 7th minute before David Luiz doubled the advantage with a far post tap in following a corner just one minute later.
However, the game turned when VAR awarded Crystal Palace a 32nd minute penalty. Referee Martin Atkinson initially booked Wilfried Zaha for diving when he went over under a challenge from Calum Chambers, but the VAR overruled and awarded the penalty. Luka Milivojevic made it 2-1 from the spot.
Crystal Palace then levelled things up early in the second half when Jordan Ayew headed home at the far post after being teed-up by a James McArthur cross in the 52nd minute.
Arsenal rallied and pushed to find a winner and it looked as though we had found one when Sokratis lashed home a loose ball in the 85th minute. However, after a long check, the VAR ruled it out for an apparent foul by Chambers.
Replays showed Chambers tangling three Palace players and he was shoved at least once in the back while another chipped away at his ankles, so if anything it should have been a foul on the Arsenal defender. However, VAR inexplicably went in Palace's favour and called for an imaginary foul by Chambers and the goal was ruled out.
IN WHAT WORLD IS THE A FOUL ON CHAMBERS‽ IS THIS SOME SORT OF SICK JOKE‽‽?! pic.twitter.com/mIZt1QhU7M

— b²³ (@arsenalistrator) October 27, 2019
There is certainly a coming together between the players but in no way is Chambers so-called foul 'clear and obvious' – as the rules state must be the case for the VAR to overrule the referee – so it was a shocking decision all-round.
Understandably, Arsenal fans have been left raging as we drew a game we should have won and we rightly feel let down this evening with many taking to Twitter to slam what was an 'absolute joke' of a decision.
VAR did nothing for the clear shirt pull on Sokratis against Sheffield United but gave two huge calls to Palace today. There is absolutely no consistency and Arsenal have certainly not had things go their way with VAR calls this season.
Check out what fans had to say on the matter here:
That VAR decision against us is an absolute joke

— Michael Sheehy (@JamrockRover) October 27, 2019
are u joking VAR

absolute joke

— Jassi Sidhu (@Jassisidhu) October 20, 2019
Oh my word, I have just seen the replay. That was a foul on Chambers if anything. Farcical decision to rule the goal out. Incredible.

— Charles Watts (@charles_watts) October 27, 2019
Where's the foul absolute joke this var get rid of it

— nabil shariff (@nabiliamshariff) October 27, 2019
Who would believe VAR would fuxk Arsenal over and over

— Arsenal #wecaredoyou (@onearsenewenger) October 27, 2019
Wow. Wtf is going on

— Arsenal Review (@arsenalreview) October 27, 2019
Feels like the sort of decision made by VAR after weeks of being told they aren't overturning enough decisions. If anything a foul on Chambers.

— James Benge (@jamesbenge) October 27, 2019
FUCK OFF VAR… SO WRONG

— ARSENAL (@tomgunner14) October 27, 2019
Arsenal's luck had to run out but that was absolutely ridiculous. Nobody in here – fans, media, players, staff – had a clue why that was ruled out until literally this second, when we've seen a replay in press box of Chambers maybe putting an arm into Milivojevic. Ludicrous.

— Nick Ames (@NickAmes82) October 27, 2019
Other News
Manchester United will make a final push to sign Wolverhampton Wanderers midfielder Ruben Neves,...

Arsenal are closing in on a £25m deal to sign Alvaro Morata from Atletico...