Man Utd vs Arsenal: Preview, Injury News & Predicted Line-up
Arsenal take on Manchester United in what promises to be one of the biggest matches of the season tomorrow. They say the league is a 2 horse race, well these are the 2 horses, and on Saturday both teams will certainly be put to the test in their FA Cup tie at Old Trafford.
Injury News :
Szczesny is out with a dislocated finger so Almunia shall occupy the goal. Theo is still out. And El Capitan joins him. Here is the boss' injury update :
"Van Persie will be available for Saturday," said Wenger.

"[Fabregas], no. He had a recurrence of his hamstring problem and he will be out for the next game. Maybe for the next two games.

"He is, of course, very disappointed because it is becoming a little problem for him to [keep] having a recurrence of his hamstring. But it's a very superficial one."
Probable Line-up :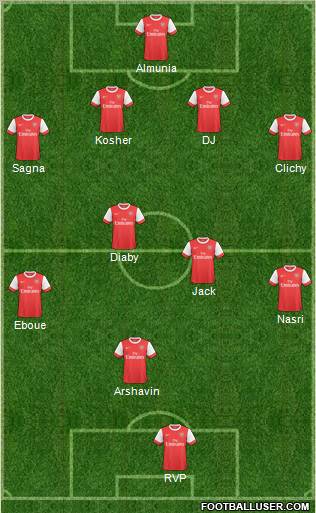 Formation : 4-4-1-1
Subs : Shea, Gibbs, SQ18, Ramsey, Denilson, Chamakh, Nikko.
Final thoughts :
Nani is a super threat and him missing will be a major boost for us. However, United are one team whom we can never underestimate. They are a world-class team and have always shown (against us) that they are tough to break down.
Tactical Analysis :
It's possible that people may be surprised by my line up, but here goes my analysis. Firstly, Nani is not playing, but Valencia is set to make a comeback. Hence the wing backs moving forward will be neutralized by this, and knowing United, they shall try to attack us on the counter attack. Therefore Clichy's side will be covered up by Nasri, and Sagna's side by Eboue. These 2 players also provide width so it is also useful from an attacking perspective.
Incase Fergie chooses to put Fletcher on the right, like he did against us Chelsea:
Formation stays the same with Nasri covering up for Fletcher, and attacking. He will have a better chance to out-run Fletcher than Valencia. However, Fletcher is a work-horse so it shall be a good battle.
Now in case United wish to play Narrow, then what should happen is that Nasri will move in-field and Arshavin goes left. The formation changes to 4-2-3-1 and the midfield gets crowded.
Overall, Arshavin is not exactly a central player so it is going to be difficult for him to go on staying in the middle. Thus I do expect Nasri and Arshavin to inter-changing frequently. Diaby is crucial, or simply whoever plays beside Jack is crucial because he will be restricted from going up and shielding the defence. Its going be tight at Manchester, and the team which wants it more is the one most likely to progress.. Lets see what happens.
Guns-out,
Other News
As per a report from Sky Sports, Everton are anticipating a bid from Tottenham...

Arsenal have scheduled fresh talks with Leeds United this week to discuss a deal...