Three Players Arsenal MUST Sell This Summer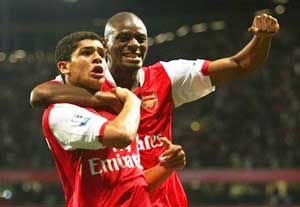 In my last post, I mentioned the youth players I would like to see in the first team next season. To accommodate them, we need to get rid of certain first team players. There have been many players who have underperformed this year but these three on my list have been given ample opportunities to impress but they have not done anything to stake their claim to continue wearing the arsenal jersey
Abou Diaby
Of all the players I dislike in the Arsenal team, this guy takes the top prize. No doubt he is talented and has shown that he is a pretty decent player but he just doesn't come through for the team often enough. The times when we trusted him to do the job he fails. He is also the reason why we fail go score many goals if he is in the team, he just constantly slows down the attack. Just watch him play and you will know what I mean.
Denilson
Well he came with so much promise but after the FA Cup defeat, I think it is time for him to leave. There is no passion or commitment at all from this guy. How can you explain him being bossed out by the da silva twins? Also him allowing the opponents to move faster than him like what Valencia did for the second Man United goal was unforgivable. It's not the first time as well. Remember how Rooney scored in the defeat at the Emirates last year? Denilson got out-paced by even the referee!
Nicklas Bendtner
Earlier this season the Dane was making all sort of noises about how he is the best striker in the club (and even the world?!). Well he hasn't lived up to his own hype. He first touch is atrocious. If he is a good striker and possess a decent first touch, we would have been in the champions league quarter finals this year. If as the report says that he is worth 15 million pounds, please do the deal immediately Arsene.
***Please note this article was written BEFORE the 2-2 draw with West Brom on Saturday, I think it's safe to say Manuel Almunia should be added to this list!***
Submitted by The Arsenal Kid
Other News
Chelsea manager Thomas Tuchel highlighted the importance of midfielder N'Golo Kante following the club's...

Arsenal have restarted talks with Juventus for midfielder Arthur, Tuttomercatoweb reports. The Gunners were...