Ramires showing true grit in bid for Premier League Samba status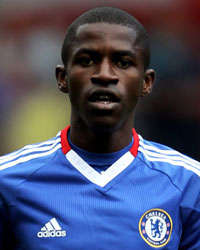 Sunday's international friendly between Scotland and Brazil seemed to demonstrate two things. The first, that it is unwise to play against the five time World Cup winners when you are desperately trying to improve your FIFA ranking position.  The second being the coming of a potential Brazilian legend.
Neymar was the name on everyone's lips before the two nations came together at the Emirates Stadium and thanks to the 19 year old's two-goal heroics in London, it will be the name people will be talking about for some time.  As the young Brazilian plays his football back home in the colours of Santos, this seemingly pointless friendly offered Britain and the majority of Europe a first glimpse at the hottest new talent from South America.  Brazil have long held a burgeoning reputation for producing hot-off-the-shelf strikers and so the occasion gained even more significance when the tourist's most recent legend made an appearance before the game.  Ronaldo, three time FIFA World Player of the Year was applauded by both sets of fans prior to kick off.  Very fittingly, whilst one legend waved farewell to his native support the door was left open for Brazil's next talent on the production line to take centre stage.
And the Santos striker certainly did not disappoint as he took up the leading role in his side's demolition of an always second best Scotland.  Neymar's first goal was both eloquent yet terrifying; a paradox that appears inherent in all Brazilian legends from Pele to the recently retired Ronaldo.  His second came from the spot but it was a sublime piece of individual skill that drew the foul for the penalty.
But with all eyes on the beaming 19 year old, another Brazilain 'hot-cake' was going about his business in a fashion that is becoming all too familiar.  Chelsea's Ramires racked up his 21st cap for the senior side and in doing so put on a performance that was (in a rather un-Brazilian kind of way) unspectacular yet efficient.  The summer capture from Benfica has taken time to settle into an unfamiliar league that is repeatedly described to be in a league of it's own.  His recent performances for Chelsea have guaranteed his place in Carlo Ancelotti's starting XI and his expertly taken goal in last weekend's defeat of Man City was the culmination of months of hard work finally paying off.
Ramires had the whole 90 minutes of Brazil's 2-0 victory to showcase why the murmur of discontent that surrounded his arrival has now settled into the various comments and articles of praise for the 24 year old midfielder.  His club manager has been at the front of the queue when it comes to dishing out congratulations:
"My boss at Chelsea is my number one fan and told me I have the chance to be the best Brazilian in the history of the Premier League." says Ramires.

"I knew it would take time to adapt when I arrived. No Brazilian escapes it when he comes to England."

He continues, "But now I am enjoying my best moments at Chelsea and want to keep improving and win some trophies."
The fact that Ancelotti is not one to flail such high words of praise around so carelessly says much about his growing reputation in English football.  But the manner in which the Brazilian has won over his doubters (much of whom where Blues fans) makes it all the more impressive.  Far from relying on the seemingly natural flair of his country, Ramires has succeeded where other talented Brazilians have not (in the EPL) because of his ability to fight, scrap and work hard for the team.
The likes of Roque Junior, Alfonso Alves and more recently Robinho have all failed to make an impression on the English game.  Juninho, Gilberto Silva and Emerson will have fonder memories of their time on British soil because they quickly realised that for all the pretty football we love to applaud, it runs a close second to how much respect we hold for those players who demonstrate genuine grit and effort when it's called upon.
Ramires looks to be filing beside those latter group of players for the sole reason that he has learned quickly what is required of him in a Chelsea team.  He knows that for every dummy, feint and step-over there needs to be a hustle, a 40/60 and a willingness to run non-stop for 90 minutes that not too many Brazilians care to do in the Premier League.  It was not too long ago that we thought Liverpool's Lucas Leiva's days in England were numbered.  He arrived as the worst Brazilian many a supporter had seen on these shores for a long time.  But the midfielder, who represented his nation alongside Ramires on Sunday, has worked hard to keep himself in first team contention whilst winning over those doubters along the way.
Not that either of these players are the finished article, nor will I say they will develop into the greats of their generation.  But there is no doubting that on the evidence of recent appearances, Ramires has become a potentially vital cog in Ancelotti's trophy-hunting machine.  Neymar, in the same breath has a long way to go to fill Ronaldo's boots; the golden ones that made him him the World Cup's all-time leading goal-scorer.  But whilst his style is strictly in-keeping with that famous Samba philosophy of flair and attack, Ramires is slowly building himself a reputation as a potential Premier League favourite, not least among folk at the Bridge.
What did you think of Ramires' performance for Brazil?…Would you give him a prolonged run in the Chelsea team?…How hot a prospect is Neymar, and how far can he go?…please leave your comments below…
Other News
Arsenal are interested in signing Bayer Leverkusen winger Moussa Diaby with manager Mikel Arteta...

Man Utd director John Murtough has flown out to Italy to try and thrash...