Man United Players On Twitter- #Winning?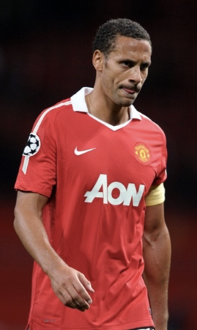 I wrote this article for the SetantaBet Blog today and thought it would be a good fit for here as it is mainly focused on United players and twitter! Let us know your thoughts!
Twitter is a social media platform which celebrities have embraced from an early stage. Hollywood actors set the precedence and other celebrities in their respective fields have been getting on board with the micro blogging site ever since.
What about footballers and twitter? It is an exceptionally interesting dynamic and nearly every day provides another fascinating 'footballer meets twitter' tale. The stories are becoming more prolific as time goes by, with more players joining the site, getting themselves in trouble and ultimately leaving again. Many players leave, of course, due to the sheer volume of abuse they are subjected to.
There Will be Abuse
We had two instances in the last week of players leaving the platform, in two very different circumstances. The Manchester United midfielder Darron Gibson didn't last two hours on the platform, deleting his account with a furious haste. During his brief sojourn with the site, Gibson was subjected to a torrent of abuse regarding his ability as a footballer and his decision to play for the Republic of Ireland over his native Northern Ireland, among others.

Bolton Wanderers midfielder Kevin Davies also departed the site recently, although Davies lasted slightly longer than Gibson, amassing over five and a half thousand tweets himself. Davies also cited abuse as a main reason for his departure:
"Reason for leaving is partly due to abuse that nobody needs really… I am big man enough to take it just think it is better to concentrate on positive people (family and friends)."
This is the problem with the site, from a footballer's perspective. This is not Facebook; they cannot pick and choose who follows them and who sends replies to their Twitter handle. A thick skin is needed. People are passionate about sport and twitter provides the masses with accessibility to the athletes like never seen before. Many of them may have people managing their account for them I'm sure, stifling through the clutter.
Why Bother?
If a footballer, why use the platform and subject yourself to this abuse? Whilst many professional athletes are genuine fans of Twitter as a tool, how many use it to build their brand? Some probably do, sure. They push you to things like their sponsors and personal ventures. The increased accessibility of athletes coupled with the personal touch that twitter brings makes it easy for professional athletes to promote themselves and their products. The key is that they don't simply use Twitter to promote themselves or their brand. There must be some interaction and valuable information in there.
Accessibility
As alluded to above, people can be passionate to the extent of fanatical about sport. This new found accessibility to the athletes provides little golden nuggets of information which fans thrive on. You get to know the person behind the athlete.
Wayne Rooney is new to the platform and his character would not be to everyone's' taste. Abuse will be plentiful for the England striker and surely it is only a matter of time before Rooney responds? You can only hang a red rag in front of a bull for so long. For the moment though, the mercurial striker has been on his best behaviour and has actually provided some great insight for his fans:

One of the most prolific users of the site has been Rooney's Manchester United team mate Rio Ferdinand. The England defender has nearly a million followers and is a fervent user of the site. He has had a very public catfight with Piers Morgan in recent months, which began with Morgan tweeting Ferdinand referring to him as 'sicknote', in reference to his injury problems. Ferdinand then responded by using his immense following to get #piershasmoobs trending in the UK. Ferdinand was then seemingly handed a yellow card by twitter and handed a warning:


Can Twitter Bridge The Gap?
Modern day footballers have teams of people around them such as agents, publicists and their general entourage. They are detached from the community they are representing in leafy suburbs and grand mansions. And why wouldn't they? But the reality is that footballers have become more and more removed from their local community but twitter can help bridge this. It provides an outlet for people to talk to their heros and maybe even sometimes, get direct responses. Football stars are more wary of the traditional media now than ever before, in particular print. Twitter gives them the opportunity to speak directly to their fans and there is no danger of being mis-quoted.
Michael Owen became engaged in a very interesting debate with Olly Holt from the Mirror last week on Twitter:
Owen: "… The relationship between players and media is poor and needs improving as the people who suffer are fans."
Holt: "Probably worse now between media and players than back in 97-98 when you burst on to scene. More contact then, I think."
Owen: "If papers printed what is actually said then i think players would talk to you more openly. I know I would."
Holt: "You have spent a lot of your career writing for our newspapers, though Michael, both tabloids and broadsheets."
Owen: "It's the sensationalising of headlines that annoys most players. It makes us look like clowns when most lads are normal."
Holt: "Headlines are a problem for a lot of writers, too. Comes down to trusting a journalist to look after you, I suppose."
Owen: "But I made sure I had headline approval! My point is, the articles are fine, it's the headlines that make us look stupid."
This exchange displays the brilliance of twitter: An honest debate between footballer and journalist on the current media/player relationship. And the best thing? It was there for all to see.
Twitter can be beneficial for both parties. Fans get access to the athletes and insights that we have never been privy to before.  The players in turn have an ideal platform to inform and promote. Yes, there will be some speed bumps along the way but that makes the journey all the better.
Other News
Arsenal manager Mikel Arteta has identified RC Lens midfielder Cheick Doucoure as a potential...

Chelsea are interested in signing RB Leipzig playmaker Christopher Nkunku this summer, Goal reports....