This Is All Your Fault, You Arrogant Stalwart Snob!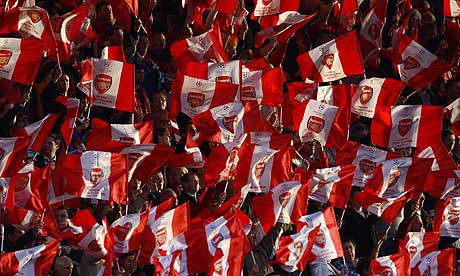 Arsenal problems mount and mount, and yet our manager does nothing about it. Everybody knows why we have not won a title this season. We sucked when it matters, and we sucked when it did not. Throwing away games, and not pushing hard enough for something which we so easily could have sealed off.
Wenger has come out and he said that he would talk to some players because they were frustrated due to lack of playing. Well, how about us Arsene? You are ready to talk to your players who don't give a damn whether they win or lose (because that is what has been happening for 6 years), but how about us ? The Fans. The 'Goonland' pay your wages, and your players wages. We want our team to perform, and this season it has been lack lustre in most cases. There is no mentality to win.
We don't have a defense. Sorry……..we have a defense who have no clue how to defend. We need to sign a defender, who is strong, and can DEFEND. But alas, you won't. Why? Because it will burn a 'f*cking' hole in your pocket to chalk out 12 million and buy a tall, German, blonde CB!
"We [have] conceded, I think, 21 from set-pieces and only 17 in open play. Less than anybody else in open play [but] we have been caught on set-pieces."
After hearing this statement, I was embarrassed. Actually, E-M-B-A-R-R-A-S-S-E-D ! You said that we have conceded 17 goals from open play, and that's the lowest in the league ( in terms of open play). Well, how the **** does it matter if you concede 17 in open play or not, you are still conceding goals. It takes 1 goal to lose a game. In your 17, off the top of my head there are some goals which decided our title race. West Brom at the Emirates, and Newcastle at the Emirates, the list can go on..
And how can we forget about our set piece defending. Because as far as set plays are concerned, we are like the damn dodo's in Ice Age – Not knowing what to do when the ball comes into the box. I mean, its as if our defense gets dumbstruck at the sight of a ball in the air coming  towards them. You can probably hearsome of them whisper "Is it a bird, is it a plane?"
No! You dimwits, its ball which you are supposed to clear away from your goal!!! Yesterday, Jones scored a goal without using his head or feet. That should alone tell the story!
I will not be surprised if we lose at home this week. I couldn't care less. The way we performed yesterday could be compared to a team of lost sheep, who have no idea why are they playing.
What are your tactics ? It's the same damn thing every damn season. Why a 4-3-3 ? Why ? Why not start with RVP and Chamakh. What is the wrong if you use tactics to beat a team? Stoke play long balls, and yet you start with Arshavin (who is so damn tall !!) and the 4-3-3. Not Nikko or MC29, who can defend if required. Not changing the formation to a 4-2-3-1 or a 4-4-2. All we do is play passing the pillow with the ball and go nowhere. And as far as a formation is concerned, the best we can do is swap the players positions and see if that dazzles our opponents..
Its time Arsene, its time. Stop being stubborn, and arrogant and go and buy a worthy midfielder. Eden hazard is currently available, so please go and buy him, even if Lille ask you for 25 million. We need a CB and Mertersacker fits the label seamlessly. Get him before he moves to an another club or before he signs a new contract.
Please, Please Please, stop causing so much pain to the fans who chalk out their earnings and pay for your livelihood. It's make or break now and it's high time you realise it.
Guns-out,