Is This What Arsenal's Team Will Look Like In 2017?
Here is a look at what Arsenal's starting eleven could look like in a few years time with Jack Wilshere, Wojciech Szczesny, Ryo Miyaichi, and AOC all involved.
Guest post submitted by o-posts:
On Tuesday against AC Milan we saw a great performance from Alex Oxlade-Chamberlain. The 18 year old is undoubtedly one of Arsenal's biggest prospects. Quick, strong, powerful, has an eye for a pass and the goal, knows what he wants to do and is confident enough to try it.
Already a fan favourite, he is excelling in every game and improving as every minute passes, and could even go to the Euros in the summer which says a lot for someone who doesn't turn 19 until August. But he isn't the only talent at Arsenal.
Last year we saw the emergence of Jack Wilshere after a good loan spell with Bolton. Jack came back to Arsenal and quickly became one of the most important players in the team. Unfortunately, he suffered an injury in the pre-season match against New York Red Bulls and has missed the entire season so far, which means he hasn't been able to build on last season's form.
But as I've said before there is a lot of talent at Arsenal and looking at the current crop of youngsters, in five years time the team could look something like this:
The 'Keeper: Wojciech Szczesny
Easily one of the best 'keepers in the league and one of the most exciting in the world, who has played over 50 games for Arsenal and still only 21. You can tell he really loves Arsenal. Always speaks with passion and celebrates every single goal, and could be the #1 for many years to come.
Also, an honorable mention goes to Damian Martinez. The young Argentinian has impressed for the reserves and some say he can go on to be even better than Szczesny. But as I've never see him play, I've put Szczesny ahead of him.
Right-back: Carl Jenkinson
Some fans don't like him for whatever reason, but I do. Taller than most right-backs we've had in the past, standing at 6'1″, he's deceptively quick, likes to get forward and can get a good cross in.
He impressed filling in for Sagna when he was injured, but also got injured himself and that essentially ruined his chances of claiming a place in the starting XI. But he'll get his chance, as he's been a Gooner his whole life and tries his best & always gives 100%. [Some would argue Nico Yennaris should be here, but his natural position is at DM.]
Centre-backs: Martin Angha & Kyle Bartley
Martin Angha is a young Swiss defender who has impressed in the under 18s and reserves. Good in the air and versatile. It'd be nice if he didn't become like the other Swiss defenders we've had, but fortunately I've heard nothing but good things about him.
Kyle Bartley: I think most Arsenal fans have heard of him. On loan at Rangers at the moment, but with all their finance trouble he could be on his way back shortly. I've been impressed every time I've seen him. He's like a giant Vermaelen; aggressive, loud & strong in the tackle. Both could become good players for us.
Left-Back: Kieran Gibbs
Still only 22, he could be with us for some time. The problem with Gibbs is his injuries. He's always picking up a knock but when he plays, he plays well. Starting out as a left-winger, getting forward isn't so strange for him. He's always getting forward and providing crosses.
If he can put his injuries behind him we could have our number one left-back for years to come. Especially, considering there isn't another young left-back at the club.
Defensive Midfielder: Francis Coquelin
Possibly my favourite of the young talent at the club. Coquelin's played quite a bit this season, although not always in his favoured position. He's a central midfielder, mostly as a DM, but as there's been injuries in defence, he's played left-back and right-back and has done very well.
Having just signed a new long-term contract, I can see him forcing his way into the side ahead of Alex Song and staying there for years. He's the sole reason why I don't want M'Vila. Special mention to Emmanuel Frimpong, who will also be pushing Coquelin for a starting place.
Centre-midfielder: Jack Wilshere
Undoubtedly one of the biggest talents in world football; bossing the midfield at home to Barcelona proved that. Passionate, aggressive, determined – what a player he is.
He's really been missed this season by both Arsenal & England. Wilshere's the future – and present – of Arsenal Football Club and possible captain material. Enough said.
Centre-midfielder: Chuks Aneke
This was probably the hardest position to do. Who was going to play alongside Jack? There is a lot of midfield talent at Arsenal: Jon Toral, Serge Gnabry, Kris Olsson, Aaron Ramsey & Ozyakup just to name a few, but I've gone with Chuks – an English midfielder of Nigerian descent.
Wenger said he's similar to Yaya Touré, in that he can attack or defend; a box to box midfielder. Tall, strong and powerful, he's bound to be a big talent if everything goes right. Even Barca wanted him.
He went on loan to Stevenage and played 6 games in total, before returning to Arsenal due to lack of playing time. With the right loan deal, he could show everyone what he's got and potentially move from the reserves to the first-team. And if he does make it to the first-team, probably best if we keep his name as Chuks Aneke, as his full name – Chukwuemeka Ademola Amachi Aneke – isn't the easiest to remember, pronounce, or spell.
The Wingers: Ryo Miyaichi & Alex Oxlade-Chamberlain
What can I say about The Ox that hasn't been said already? We all know he's a massive talent. His performance against Milan was almost reminiscent of Wilshere's against Barcelona. He bossed the midfield. A hard working youngster who has his head screwed on. Many were skeptical of the signing after spending such a big fee on him, but Wenger was proved right yet again. A top, top talent.
Ryo Miyaichi: On loan at Bolton and impressing, I have no doubts that 'Ryodinho' can be a big player for Arsenal next season. Just as quick, if not quicker than Theo Walcott, skilful, good with either foot and has a decent end product which will only get better.
Fantastic for Feyenoord last season during his loan spell, he quickly became a fan favourite of the Dutch club and can do exactly the same at Arsenal.
The Striker: Benik Afobe
This was another tough one. It was either Benik or Campbell. Both Benik and Joel Campbell are fantastic talents. I've gone for Benik for a number of reasons. One of which is the praise he received from club captain Robin Van Persie.
RVP described Afobe to Arsenal.com as a "proper English striker who holds the ball up well and works very hard", Benik has all the attributes to make it with Arsenal, a club he's been with for years through all the youth teams. Like Aneke, he was also wanted by Barcelona but decided to stay and continue his progress with Arsenal, which is nice to hear.
The final line-up?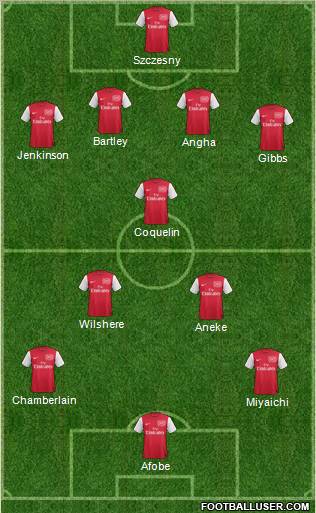 There are too many talents at Arsenal to mention and you can only start 11 players. I can't really pick between the remaining youngsters to make a bench. Not all of them will make it, but the ones that do will have to be special to beat the others.
The future of Arsenal is looking great though!
Other News
Manchester United take on Real Sociedad in the second leg of their Europa League...

Arsenal take on Benfica in the last-16 of the Europa League on Thursday evening....