Latest Updates On Higuain Saga & Leaked Picture Of 2013/14 Away Kit – Blog
Arsenal blogger 'Gooner Daily' discusses leaked pictures of Arsenal's new away kit and also looks over a hectic week in the Gonzalo Higuain to Arsenal saga.
Arsenal blogger 'Gooner Daily' discusses leaked pictures of what could be Arsenal's new away kit and also looks over what has been a hectic week in the Gonzalo Higuain to Arsenal saga.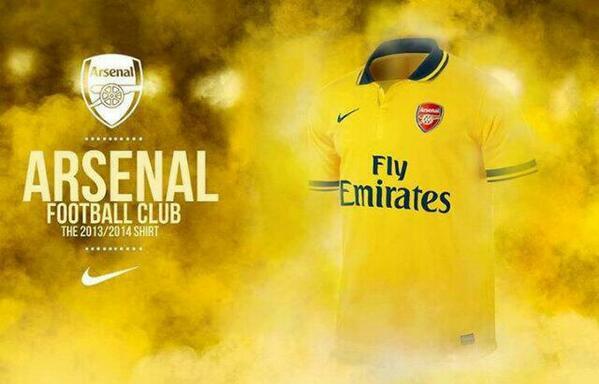 A few sites have released pictures of what would be Arsenal's away kit for the forthcoming campaign. This may be one of the numerous photo-shopped pictures we've seen in the past but I have a hunch that it could be the real deal. The official away kit will be released soon but this classic yellow jersey with a blue trim on the collar and at the end of the sleeves reminds me of Arsenal's O2-sponsored away kit of the Invincibles season.
Many Gooners will have mixed opinions about the jersey, if this is what we are going to settle for. While some are happy to see a vintage Arsenal away color back after last season's Purple and Black, some feel that Nike have lost their mojo and are waiting patiently for the Puma deal to come to fruition in the start of the 2014/15 campaign.
Should Arsenal conclude the kit sponsorship deal with Puma, it would make the end of a 20-year spell with Nike and in my honest opinion, I've seen and bought some lovely kits while I've been quite perplexed with some of Nike's designs in the past as well.
Let's keep our fingers crossed as we wait patiently for the club to release the official away kit for the 2013/14 season. Dunno about you but I'm gonna get me one.
Moving on to more important news, Arsenal fans have been anticipating the potential arrival of Real Madrid's goal poacher, Gonzalo Higuain, after the Telegraph had reported that the Gunners made a bid in excess of 22 million pounds. Shortly afterwards, the Guardian claimed that the player had agreed personal terms with us and it was believed that he was set to be among the highest earners at the club.
Apparently, everyone has an opinion in regard to his potential move to Arsenal and I wasn't surprised when his father, Jorge Higuain, stated that there's a possibility of the forward joining Juventus, even though they've completed the signing of Argentine hot-head, Carlos Tevez, who would fight for places in attack with new signing, Fernando Llorente, as well as incumbent strikers like Alessandro Matri, Mirko Vuninic, Fabio Quagliarella and to a reasonable extent, Sebastian Giovinco.
Out of the blue, Gonzalo's brother, Nicolas Higuain, has quelled "daddy's quotes" and he stated that lil' ol' Gonzalo will be joining Arsenal after all,
'If Tevez joins Juve, is Higuain closer to Arsenal? I think so.

'Juventus is a great club, but Gonzalo is too expensive for them.

'Napoli are a strong team. Having said that, I cannot deny that Gonzalo is now close to Arsenal.' He was quoted as saying in the Daily Mail
When we thought we've heard it all, the Times has cooked up a ludicrous story stating that Real Madrid's new boss, Carlo Ancelotti, is set to offer Fabio Coentrao and yours truly, Gonzalo Higuain, as bait to land Welsh sensation, Gareth Bale from Tottenham.
With Barcelona tying up a deal for Neymar, it was believed that their fierce title-chasing rivals were on the look out for a mega signing. Luis Suarez and Gareth Bale were linked to the Spanish outfit but the Tottenham chairman, Daniel Levy, placed a mammoth price tag on his most prized asset. Swap exchange deals have become part and parcel of the beautiful game and Arsenal had a first-hand experience of this kind of business when that mercenary William Gallas came to North London in a deal that saw Ashley Cole go the other way.
Whether this recent development in the Higuain saga has an element of truth or is just plain boll*cks nobody knows,  but we'll have to keep our fingers crossed as things progress. I will monitor the Higuain situation closely and I will give more updates as they happen.
Do you like the new away kit? Will we sign Higuain in the end? Get involved in the comments section below.
This post was originally published on Gooner Daily – you can check out their Facebook page here.
Other News
Manchester United are leading the way to sign Napoli striker Victor Osimhen this summer,...

Arsenal have made an enquiry to sign Barcelona forward Memphis Depay ahead of the...