Arsenal Injury Crisis Deepens As Mesut Ozil Is Ruled Out For 3 Months
Arsenal have been dealt a huge injury blow after the German Football Association confirmed that Mesut Ozil has been ruled out 12 weeks with a knee injury.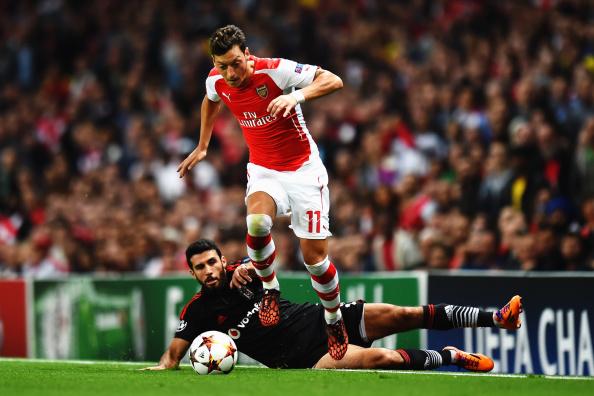 Arsenal have been dealt a huge injury blow this afternoon after the German Football Association confirmed that Mesut Ozil has been ruled out for up to 12 weeks with a knee injury.
Ozil played the full ninety minutes for Arsenal during our 2-0 defeat to Chelsea at Stamford Bridge on Sunday before heading off to link-up with the German national team ahead of their Euro 2016 qualifiers against Poland and Republic of Ireland.
The 25-year-old missed training on Tuesday and travelled to Munich on Wednesday morning to undergo an MRI scan after complaining of pain on his left knee and the scan results have revealed the true extent of the problem.
The DFB [German Football Association] confirmed the news on their Twitter account earlier today that Ozil has suffered a partial rupture to his left knee ligament and will be out for between 10 and 12 weeks.
The DFB then released a statement on their official website that read:
Mesut Ozil already complained on his arrival in Frankfurt on Tuesday about pain in his left knee . The MRI examination today at National Dr. Hans – Wilhelm Müller -Wohlfahrt in Munich revealed a partial rupture of the outer band of the left knee joint. The treatment is conservative, with six weeks of immobilization of the knee joint . Mesut Ozil is likely to be ten to twelve weeks.
Ozil is now expected to return to London so Arsenal can make their own assessment of the injury but if our doctors confirm what the German national team have diagnosed, then we won't be seeing the playmaker until the New Year.
This latest injury will come as a major blow to Arsene Wenger as he once again has an extensive injury list to deal with, as Ozil joins the likes of Theo Walcott, Aaron Ramsey, Mathieu Debuchy, Olivier Giroud and Mikel Arteta on the sidelines. That's arguably six first team players all out at the same time.
Thankfully Ramsey, Arteta and Walcott should all be back soon, but knowing our luck, more first team players will pick up injuries over the next few weeks. We just can't seem to keep our players fit and it's been a problem for well over five years now.
We took steps in the summer to try and rectify things with Arsene appointing a new fitness coach in Shad Forsythe, but if anything the injuries have been getting worse this season. Who knows what the problem is but one things for certain, it isn't all down to bad luck…..
Other News
Chelsea will be looking to end the season with a win when they take...

Manchester United finish-up a disappointing season when they take on Crystal Palace at Selhurst...