4 Talking Points From Arsenal's 2-0 Win At Monaco
Arsenal crashed out of the Champions League despite an impressive 2-0 victory over Monaco on Tuesday night. Here are four talking points from the game…
Arsenal crashed out of the Champions League despite an impressive 2-0 victory over Monaco on Tuesday night. Here, Gunner333 gives us four talking points from the game…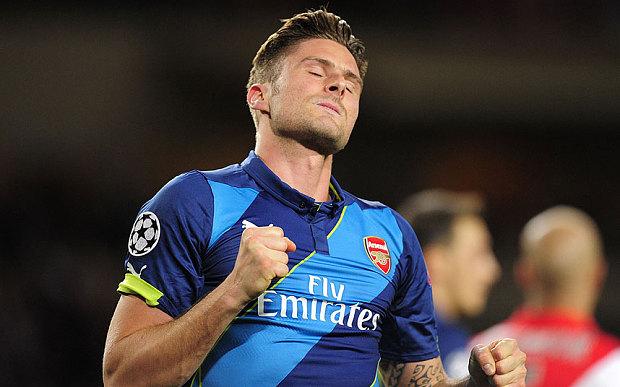 A despondent hammering at home to French outfit Monaco in the first leg of the last sixteen meant three un-answered goals would be required at Stade Louis II for Arsenal, or else they would be dispatched at the first knockout hurdle for the fifth consecutive season.
After a shaky start the Gunners broke the deadlock on the cusp of the half hour mark. Danny Welbeck released Olivier Giroud who found space to drill one at Subasic; the Croatian denied the effort, but Giroud steered home the rebound. Just the two goals now needed to progress for Arsenal, with roughly an hour of of football to play.
Moments after the opener, Welbeck's driven low-shot ricocheted off the leg of Abdennour, before the visitors and Arsene Wenger especially felt Sanchez' dubious collapse in the box warranted a penalty, but nothing was given.
Frustrations growing as time ticked on, Arsenal were in desperate search of a second. Fortunately Kurzawa's amateurish defending provided just that, as the Frenchman found substitute Ramsey with his poor clearance, who struck a second to supply the penultimate building block for Wenger's boys to advance.
The Arsenal heart-beat fluttered when Sanchez and Giroud vied to latch onto Özil's late free-kick, but the latter had his goal-bound connection clawed away on the line by Subasic and ecstasy would be unleashed for Monaco, not least when full-time was finally signalled.
Despite a triumphant second leg display by the Gunners, amid a tense atmosphere, we were reminded just why no club has ever overturned a two-goal home deficit in the first leg in the Champions League era.
Victory was comfortable but ultimately expected, unlike progression to the next round, which proved near-on impossible due to the suicidal first-leg display. It is that time again, as I shall now discuss four talking points from the night and what can be done in future.
1) Bold decisions by Wenger
Over-turning such a deficit may have proved a turning point in Wenger's highly scrutinised recent seasons, but it wasn't to be, despite the Frenchman deploying some tactical variation on the night. Bold and brave in selecting a host of attack-minded individuals, with Coquelin the only one natural to 'sticking-a-foot-in', it was pleasing to see Wenger understood the task in hand and went for it.
Monaco were never going to come out and attack and the decision to play Cazorla, Giroud, Sanchez, Özil and Welbeck in the same side gave us plenty of options going forward as we searched out the three goals we desperately needed.
In addition, the substitutions actually altered the side's approach and had purpose. Walcott's unlucky post-bound effort would result in fellow substitute Ramsey slipping home the second and by bringing such players, the shift in energy levels was evident and had the time clocked over any longer, a third would have undoubtedly come.
2) Slow Starters
The media dressed this up as a Herculean task and a defeatist attitude no doubt swept across North-London come the close of the first-leg. However, although progression was unlikely, the Gunners still looked eager on the night, but not until twenty-minutes or so had elapsed and this was ultimately too late to begin the fight-back.
Monaco were snapping at Arsenal heels and knew concession of an early opener would hand the visitors belief to push on. They had us under wraps from the word go, with Kondogbia bossing the midfield and giving us very little space to create early on.
It was always going to be a case of so near but yet so far, when chances began to open up but good fortune eluded Wenger's men. Had the side caught Monaco out in the opening ten minutes, cracks may have begun to appear and the story could have told very differently.
3) Rambo A Rainbow
I may have already praised Wenger's tactical approach and team selection, but it seems a tough task to muster up a reason as to why Ramsey did not partner the excellent Coquelin in the hub of the midfield from the beginning. They compliment each other excellently and given Aaron's dynamic showing against the Hammers on Saturday, it was a surprise to see the Welshman benched in a clash where attacking creativity and spirit was needed.
When he did take to the field, his goal, albeit a consolation, boosted the side and capped off a hard night's work from the midfielder. Brilliant at finding pockets of space and always a good option for Giroud to lay off to, given his fearless shooting style, an earlier introduction or even a start could have contributed the impetus so desperately required in the drier spells of the game.
4) Winging It [Quite Literally]
What is that? Arsenal playing with width? Yes, surprising as it may have seemed, the Gunners did adopt a 'Plan B' which they have been so heavily criticised for lacking in more recent years. It was not a case of doing this from the starting whistle, but instead a new method utilised amidst scenes of such desperation to snatch a killer goal.
Bellerin started the craze; Arsenal's first chance of the game arising courtesy of an off-balance Giroud header. That was not the end of it there though. Sanchez, Monreal [and later Gibbs], Özil and Cazorla were lumping in crosses throughout the ninety – although most deliveries were poor and led to few goal-scoring chances.
Generally, it can be read one of two ways. The crosses show how much the side have come on to finally find a new way of attacking and Wenger's stubborn nature may be ever-so-slightly diminishing. In contrast, the Gunners wasted the final, decisive ten-or-so-minutes with a barrage of aimless crosses, which came to no avail and rendered the side no better than a side vying for League 1 promotion. View it how you wish.
Overall a gutting result and one which is a victim of a first leg drowned in arrogance and complacency. Full marks for this performance, but if another performance like the first leg crops up, we must worry. 
Other News
Chelsea are interested in signing Juventus midfielder Adrien Rabiot in the upcoming transfer window,...

Manchester United have discussed the possibility of signing Jurrien Timber and Pau Torres during...