4 Reasons Why Arsenal Scraped Into FA Cup Final
Arsenal booked their place in the final of the FA Cup with a 2-1 victory over Reading at Wembley on Saturday. Here are 5 reasons why Arsenal progressed
Arsenal booked their place in the final of the FA Cup with a narrow 2-1 extra-time victory over Reading at Wembley on Saturday evening. Here are 5 reasons from Gunner333 why Arsenal progressed to the final….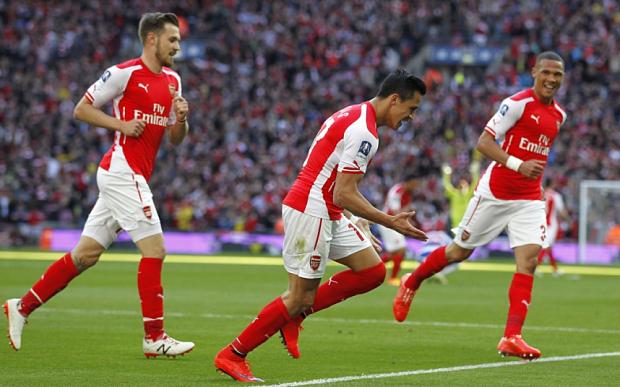 Eager to emulate last season's heroics, Arsenal travelled to Wembley for the much-anticipated FA Cup semi-final against Reading off the back of an incredible eight-game winning streak. Steve Clark's side reached the semis without facing Premier League pedigree, whilst Arsenal had dispatched Manchester United in the last round.
We started poorly but eventually broke the deadlock just before half-time when a moment of brilliance from Mesut Ozil saw him find Sanchez in the box with a stunning ball, and the Chilean re-adjusted himself to poke one beyond the keeper for 1-0.
Reading had pressed well in the first period and would feel hard done by to concede first, but rewards for their efforts came to fruition moments before the hour mark. Pavel Pogrebnyak's cross spelt danger for Wenger's men, as McClearly converted on the volley, despite Szczesny's best efforts to keep the attempt out.
Gabriel was called upon to replace the injured Mertesacker and the Brazilian was unfortunate not to make an immediate impact, his near-post header forcing a tremendous stop from Federici, before the former-Villarreal defender fluffed an arguably easier chance minutes later.
It was seeming increasingly like it would not be Arsenal's day, when a normally-reliable Ramsey bruised the post with a close-range effort and the game ventured into extra time.
Substitutes Walcott and Giroud injected Arsenal with the drive to push on, but it would be the man who started the Gunners off who would finish it. Alexis Sanchez weaving his way through the Reading back-line to bag the decisive goal in fortuitous circumstances, as Federici made a mess of the Chilean's tame shot, the ball squeezing through the Australian's gloves, legs and devastatingly over the line.
So Arsenal have made it to a record-breaking 19th FA Cup final, as pure misfortune denied the Royals their first. The Gunners were nowhere near their best and were somewhat complacent in their approach but must have done something right to overcome a heroic army of blue and white. Reasons why they did so being what I shall now discuss…
Coquelin Catalyst
There is no denying Reading were dangerous when in possession. Boasting a mix of pace and strength in the final third, they caused problems and, in some respects, were unlucky to get just the one. But it was more than just a bit of Arsenal luck that meant little arose through picking up these positions. Francis Coquelin, newly-formed Arsenal regular, was not at his best but still remained sharp in breaking down Reading's advances in the middle of the park.
Possessing a trait rarely seen in the Arsenal dressing room, Coquelin has that rough-around-the-edges style of play that means he's not afraid to throw in a leg and commit for the team. Fortunately, he seems well trained in the art of tackling and came out of the game unscathed by Martin Atkinson, meanwhile contributing with a sound defensive display which guarded a relatively vulnerable Arsenal defence.
Tactical tweaks
Although it may have felt at points that a monkey with a pen and a whiteboard would be more tactically acquainted than Arsene, the Frenchman made the right decisions towards the end and his experience shone through. There were a few adjustments needed to give Arsenal the best chance of scoring a second, one being the painfully evident lack of width and pace.
Walcott's arrival was paramount in supplying an energetic burst to the Arsenal attack, while fellow sub Giroud was far more suited to play through the centre than the lesser experienced Welbeck. Theo made some promising runs down the flank, whilst Giroud held up the ball on a number of occasions, not least when we needed to see the game out.
Wenger started with Cazorla playing a much deeper role but as the game progressed, orders from the sideline must have indicated to the Spaniard he could flow into his normal role later on, which he did and thus made a far greater impact on the game.
Lessons Learned
Rewind to this point last campaign and the FA Cup was hanging in the balance in similarly dire circumstances, but penalties were not required this time around. Against Championship opposition, it should be far easier, but it is apparent a mixture of complacency and naivety makes it that little bit tougher to triumph comfortably.
Struggling our way to victory against Wigan last year, similar effort levels were required towards the end of the game this season and, although the squad has had the odd alteration over the past twelve months, it is clear the team's mentality as a whole has undergone improvements since then and had the experience to carry them over the line.
Finally Have That 'World-Class' Talent
The hallmark of the very best of players is the ability to make something happen, even when they don't seem at their sharpest and that's exactly what Alexis Sanchez did yesterday. An idealistic role-model for anyone in the game, Sanchez' work-rate dwarfed the majority of others on the pitch and if he was knocked down, he would dust himself off and chase down the ball again.
Both of his goals presented elements of fortune but his diligent approach warranted such luck and everything he did was out of passion for the club and through a burning desire to win. Pundits have droned on and on in the past about Arsenal lacking that 'world-class' talent who could turn nothing into something and we may very well have found that persona in a little Chilean package.
So an excellent result and great commiserations to a Reading side who made cracking FA-Cup semi-final opponents. A respectable league finish still beckons for Arsenal before they face Aston Villa on May 30th. Thanks for reading and feel free to comment below.
Other News
Arsenal play their first home game of the new Premier League season this afternoon...

According to Football Insider, Premier League side Newcastle United are open to letting their...