FC Barcelona – The Complete Arsenal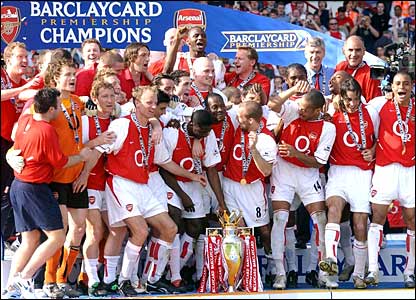 Arsenal play Majestic football. I guess that is the only style of football we know. "Short passing and movement." The modern name people use is the "Beautiful game." But my question is simple , ' Is the clubs purpose to entertain neutrals, or to win trophies?'
You see whenever we have played the simple game*, we have won. Last season against Fulham, yeah the one in which Mannone went crazy, that was a day in which we never actually played "our game." Some called it an ugly win afterwards. But whats the bottom-line, 3 points in the bag! And most importantly, people don't even re-call that match. Probably the fact that I have written about made you remember.
But Gooners will always remember the Chelsea game. Why? Well the Chelsea game was one in which we play well, we played beautiful football, but we lost.
*Now don't get me wrong, its not that when we play beautiful football we don't win. If you recall the 7-1 hammering of Slavia Prague in the Champions League, that was a match in which we played some  breathe-taking stuff. But lets look at the facts. We usually tend to hammer the small teams a lot, which is why the defeat to West Brom hurt even more and against the big teams such as Manchester United, Chelsea and the Spanish twins we tend to get whooped !
But you may ask "Arsenal play beautiful football,  and so do Barcelona." But why has 1 club won so many more trophies than the other." Here the bloody comparing starts. But you see there is a difference here. Arsenal and FCB are counter-parts of each other.  Now I thought about it, and then I realised. We play in one of the most competitive leagues in the world. There is a physicality the Premier League brings, which the La Liga does not. For instance shoulder barges in the BPL are not considered as fouls, but in La Liga the referees "consider it", although they may not give it(but if its hard enough they will.) If we played in the La Liga, there would not be many problems for us. Firstly our players would not get fouled so much and receive much more protection from referees. Secondly, the tempo of the league completely suits ours. Not too fast, but not to slow either. So, when Cristiano Ronaldo went over there, its not a surprise his acting skills have developed more is it. The environment suits him completely, dribble past a few, fall-down, and repeat..
Now you may consider Barcelona triumph in the Champions league. Yes, they were victorious. But, the fact that they had derived enough confidence from sweeping their domestic league clean, and the effect on its players does prove to be an important factor to consider. Who the hell did they not have ?  Eto, Messi, Henry, Xavi, Iniesta, Sergio/Toure. Come on. I mean, a team like that, in which the front 3 alone share 100 goals between them seriously is invincible. That was the season in which the club reached it peak – 6 trophies. They are basically us, the fully evolved form of Arsenal Football Club – THE COMPLETE ARSENAL.
Its not that the game we play is not fruitful, the point I am trying to make is that it is more fruitful to undertake it against teams which are 'ideally' less likely to beat us. You will always hear experts say that "A team which has title ambitions, should pick up points against the Wigan's and Blackpool's of the game." I mean that is what makes you Champions, Consistency. Manchester Utd won the league not because their team is the best on the planet, but because they are consistent. We did do it in the 2007-2008 season. Unbeaten for 15 games, then after losing the 16th we were unbeaten for 14 games. Well after that we drew 4 in a row, but that's different. Consistency should not be in that sense. Or in a better way, the present Manchester Unites situation "Unbeaten but dropping points". Rather the unbeaten Arsenal side of 2003-2004 is the perfect example.(barring that dry run of draws )
I love the way we play football, but we should have something to show for it at the end. We are not as lucky as Barcelona, that their league is less difficult than ours. Neither are we lucky financially, compared to them (in terms of spending, not debt ). Everton in the La Liga will probably give the Valencia"s and Atletico's a tough time. That is the difference in league standards.Life is not that easy for us. We don't have a Messi in our team,who can step up always. We do not have a world-class goal-keeper in Victor Valdes. Also if our manager ever spends more than 29 million pounds on a player, I swear to good I'll get a heart attack ! So next time you compare the 2, think twice will you. FC Barcelona are good, no doubt, but we are no less. Look at the clubs achievements in the past 4 years. Yeah, the no trophy crap is going to start, but we have always qualified for the Champions League, we have managed our money properly, and most importantly, we have always posed as title contenders.
Fans of other clubs, lets be honest here. (Especially the United and Chelsea fans.) You know Arsenal has not won any trophies in the last 5 years, you know we do not spend as big as you all. But you also know that the club overall is better managed than any of your respective clubs. Neither do we have a 1 billion debt, nor do we have a very very very humble owner !
Respect the Arsenal. Why do pundits not talk ever about the good things about Arsenal. Football is a business ain't it. Why is it always that "Arsenal play beautiful football, but they don't win trophies." That is the pissing of thing about people. They judge only on results, and not on the way you got there.
Anyway, we have been playing well recently, and hopefully should continue ( touch-wood ) in the same manner. We have drawn Ipswich, and Leeds in the Carling and FA cup(s), so provided we don't screw up our game as usual, we should progress even further in these 2 competitions.
December dawns upon us and I can't wait……
Cheer-i-o,
Other News
Arsenal manager Mikel Arteta has hinted that Alexandre Lacazette, Eddie Nketiah and Mohamed Elneny...

Arsenal know they need to beat Everton at the Emirates on the final day...