7 continental managers that Premier League clubs should be looking at
Here is a look at seven continental managers Premier League clubs should be looking at this summer.
For Marco Silva, who was appointed Hull manager earlier this year with the club's form on the wane, it was a brave – if unsuccessful – fight against relegation. The Lisbon-born coach arrived in England with a good record in Greece and Portugal, along with a reputation for creative, forward-thinking management. Particularly, in signing Andrea Ranocchia at centre back, he showed the sort of ambition that has previously enabled continental managers to compensate for their lack of experience in the brutal realms of English top flight football.
His recent appointment as Watford manager is just reward after impressing in adverse circumstances at Hull City. This is likely to prompt other clubs to target the continent for new managerial talent, as the proverbial axes begin to swing throughout 2017/18. Unless secretly planning to promote from within, Crystal Palace will be the next club to snare a new manager after Sam Allardyce's departure. So just who could clubs like Palace realistically pursue in the near future?
Thomas Tuchel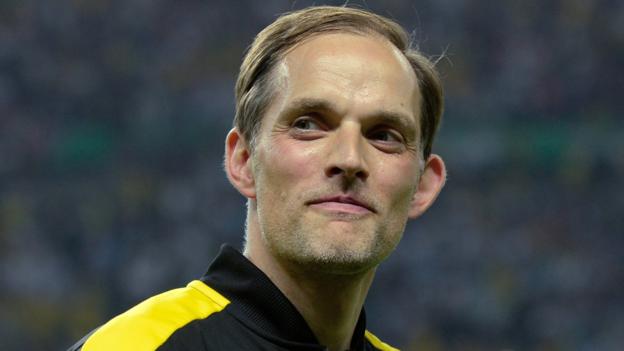 Tuchel was lumbered with an unenviable task in October 2015, when the charismatic, success-laden Jürgen Klopp departed Borussia Dortmund to join Liverpool. Tuchel's arrival ensured that the transition was smooth, and did not unduly disrupt the club's fortunes. After finishes of second and third with Dortmund, including one Deutscher Pokal triumph, Tuchel has proven that he can sufficiently motivated his charges. The next test, inevitably, will be the cut and thrust of the Premier League, where he can expect bigger paychecks, bigger egos to deal with, and a far more explosive congregation of fans to pacify.
Roberto Mancini
On 1 June, Mancini was anointed as the new manager of Zenit St Petersburg after being dismissed by Inter Milan. Though this has seemingly laid to rest any links between Mancini and a first English post in four years, the Italian may yet be swayed, by his debonair managerial background, into striving for a return sooner than many think. Perhaps the only strike against Mancini is the fact that he has never had to manage a team at the unfavourable end of the Premier League table with limited resources. He remains notable, on merit, for being the man that ended more than three decades of trophyless hurt at Manchester City.
Paolo Sousa
A two-time Champions League winner in his playing days, Sousa's CV betrays that of a manager primed for the riches of the Premier League. Presently the manager of a Fiorentina side that finished a disappointing eighth last season, Sousa may find himself on borrowed time if he fails to begin 2017/18 well. Nonetheless, a win rate of over 45% at his current club is encouraging, and it is also worth noting that he once guided Swansea to the heady heights of seventh in the season prior to the Swans' promotion to the Premier League.
Claudio Ranieri
Still without a club after being sacked by Leicester City, those that still believe in the romance of football will assert that the Italian still has some reserves of the magic he enacted upon Leicester City in 2015/16. His trademark is to deploy a direct, fast-paced 4-4-2 formation that demands high stamina and the ability to visualise opportunities in a shrewd and timely manner. Ranieri's style of man-management could only aid the process of building morale after any dismissal.
Vitor Pereira
Pereira is currently managing TSV 1860 Munich. Though he oversaw a 2.Bundesliga relegation in which 1860 won just six games out of thirty, there was little he could have done in light of the club's poor resources. It is, however, worth remembering that just four years ago Pereira boasted an impressive win rate of nearly 70% for Porto, which led to him being informally linked to the Everton role as David Moyes' replacement at Goodison Park.
Vladimir Petković
Petković has been the manager of Switzerland for three years, overseeing Switzerland's safe passage into Euro 2016, whereupon his charges finished second behind hosts France before losing to Poland on penalties in the knockout phase. Currently, Switzerland top a World Cup 2018 qualifying group that contains none other than European champions Portugal and fellow Euro 2016 finalists Hungary. Current football betting odds continue to shorten in favour of Switzerland winning the qualification group, and as a manager, Petković's finest moment to date is a Coppa Italia cup win with Lazio in 2013.
Eduardo Berizzo
Berizzo rose to prominence after guiding Celta Vigo from relative obscurity to a Europa League semi final over the course of three years. On 27 May 2017, he was appointed manager of Sevilla, ruling him out as a potential target for Crystal Palace – or any other club with short-term plans to replace their incumbent manager. Depending on his performance at Sevilla, and his ability to cope with the club's demand for high finishes and cup runs, Berizzo may become a target later in 2017/18 when the options begin to run dry for clubs struggling at the wrong end of the Premier League. Regardless, any club making said move would need to be prepared to meet a sizeable compensation sum for his services.
Author Bio
Tamhas Woods is a BJTC-accredited broadcast journalist with a M.A in Journalism from Staffordshire University.
Other News
Manchester United are set to compete with Chelsea to sign Barcelona star Pierre-Emerick Aubameyang,...

Manchester United manager Erik ten Hag continues to prioritise a summer move for Chelsea...