Is Coutinho going to be the biggest-money move in 2018?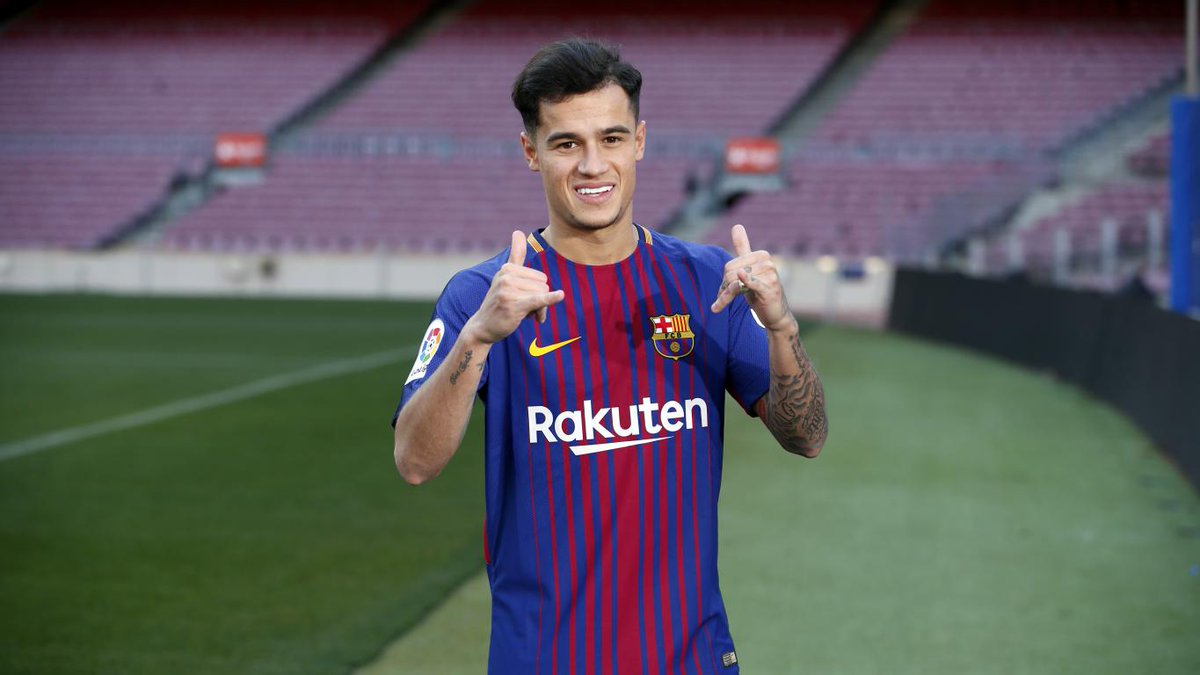 One of the biggest stories in football at the moment, certainly in the January 2018 transfer window to date, is Philippe Coutinho's move to Barcelona. The 25-year-old Brazilian playmaker has sealed a huge £145 million move to the Nou Camp and left the Liverpool dressing room behind. It's a massive fee, but for one of the world's top players, it is around the level that you would expect in the current financial climate in the game.
With the transfer window closing on 31st January, clubs will still be looking to sign the players that they feel can help them improve or avoid relegation. The question that many will be wondering is whether the Coutinho move will be topped by the time the window slams shut for the season.
Which transfers have hit the back of the net already?
Although the Coutinho move is easily the biggest story and fee to date, other players have also been on the move. The other big deal so far in January also involved Liverpool, who were quick to bolster their defence with a £75 million bid for defender Virgil van Dijk.
Across the city, Everton have also been busy. Star midfielder Ross Barkley completed a £15 million transfer to Chelsea recently to help kickstart his career. Turkish striker Cenk Tosun has moved to Everton from Beşiktaş in return. The tough centre-forward bagged 41 goals in 96 games for Beşiktaş, so £27 million could be great business.
Other clubs have been quiet so far, with many deals in the middle of being hammered out between chairmen, agents and players. The main news elsewhere, as reported by the Daily Mirror, is that Francis Coquelin has sealed a move from Arsenal to Valencia for around £11 million.
Which other deals could be about to happen?
With the transfer window far from over, rumours abound of proposed deals for many players. Perhaps the one making the most news at the moment is the possible departure of Alexis Sánchez from Arsenal. The Chilean forward has seemingly been eyeing the exit door at the Emirates for a while now, and many believe that Manchester United could be about to swoop for him.
Going the other way could be 28-year-old Pierre-Emerick Aubameyang from Borussia Dortmund. This would be a wise move by Arsenal manager Arsène Wenger to placate the fans if Sánchez were to move. A superb player with an eye for goal, he would be a fabulous addition to their squad.
One other move that could generate a big fee is Henrikh Mkhitaryan from Manchester United. It seems that Arsenal are most interested in him and could be ready to offer him a way out. He is a quality player but has never commanded a regular starting place in the United team, which may see him ready to move on.
News from abroad focuses on talented young Serie A midfielder Nicolò Barella. Currently playing for Cagliari, it is thought that an offer in the £44 million region could be enough to bag him. Still only 20 years old and tipped for a bright future, this could be a top deal for either Liverpool or Manchester United, who seem most interested in him.
Managers look to boost their squads
Of course, the activity in the transfer window centres on one thing – managers desperately trying to fill gaps in their squads. This is especially true in January, when the coaches have had the first half of the season to assess where they are short. Many will ask their chairmen to dip into the market to help them move up the table and boost their team's performance.
The biggest money moves draw the most attention from fans, who can cheer on their new favourite player from the side lines. Who knows, that new transfer could even be a good luck charm, bringing more goals, more points, and more payback if fans put their money where their mouth is on football sites such as sports betting at Stakers, really making these big-money moves pay off for the supporters.
More big-money deals to come
One thing would seem certain with a couple of weeks still to go before the January 2018 transfer window closes – more big-money deals will take place. Whether any this season will top the move of Coutinho to Barcelona for £145 million is open to debate. What is safe to assume is that the remainder of the football year is sure to be more exciting and thrilling to watch as a result.
Other News
Arsenal are interested in signing Bayer Leverkusen winger Moussa Diaby with manager Mikel Arteta...

Man Utd director John Murtough has flown out to Italy to try and thrash...