Arsenal Team News: Wenger Offers Injury Update On Ozil, Koscielny & Cazorla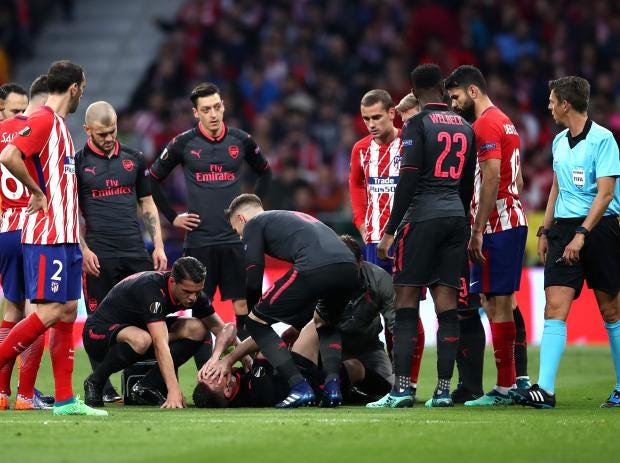 Arsene Wenger has provided a team news and injury update ahead of Arsenal's Premier League clash with Leicester City at the King Power on Wednesday night.
The boss confirmed that he'll be without four of his first team squad players tomorrow night with Laurent Koscielny, Mohamed Elneny, Mesut Ozil and Santi Cazorla all ruled out.
Koscielny was stretchered off during the early stages of our Europa League semi-final second leg defeat to Atletico Madrid last week after suffering a serious Achilles injury.
We've been waiting for the scan results to come back and sadly Wenger has confirmed the defender needs surgery on a ruptured Achilles and will be ruled out for at least 6 months.
The news has left Koscielny 'devastated' and it means he will of course miss the World Cup finals in Russia this summer, which is a huge blow for the French international at this stage of his career.
Cazorla on the other hand has just returned to full training following 19 months out with his own serious Achilles injury and there was hope the midfielder could play some part in the final two games.
However, Wenger has confirmed that Cazorla won't play again this season as the medical department feel it's too much of a risk to rush him back after being on the sidelines for such a long time.
Ozil missed the 5-0 win over Burnley on Sunday with a supposed back injury and his absence led to speculation that he's faked another minor injury to keep himself fresh ahead of the World Cup.
However, Wenger insists the injury is genuine but doesn't think the German international will recover in time to play any part in our final two games against Leicester or Huddersfield.
"We have four players who are out, Cazorla, Koscielny, Ozil and Elneny." #AFC

— Mark Mann-Bryans (@MarkyMBryans) May 8, 2018
Wenger: "Koscielny is of course devastated because he needs surgery. That means he will be out for six months. You will not see him at the beginning of December at best."

— Chris Wheatley (@ChrisWheatley_) May 8, 2018
Wenger on Koscielny: "We always try to be positive and you can only try to support people when they suffer. What is unusual in his case he had a [Achilles] tendinopathy for a long time and usually they do not rupture. In this case it went and I don't know why."

— Chris Wheatley (@ChrisWheatley_) May 8, 2018
"He is injured…." Wenger on reports Ozil is choosing his games. "He wanted to play on Sunday, it was a game that was enjoyable to play." #AFC

— Mark Mann-Bryans (@MarkyMBryans) May 8, 2018
Ozil: "He was in yesterday for treatment, he still has a back problem. At half time in Madrid he had it, it is unlikely he will play again this season." #AFC

— Mark Mann-Bryans (@MarkyMBryans) May 8, 2018
Wenger also ruled out any chance of Santi Cazorla playing before the end of the season. "Medically people tell me it's too much of a risk to rush him back now."

— Mattias Karén (@MattiasKaren) May 8, 2018
Arsenal have very little left to play for in the league as the win over Burnley means we're guaranteed to finish sixth no matter what our last two results are so Wenger is expected to rotate his squad for the trip to the King Power tomorrow.