The Weekly Roundup: Wilshere, Spurs Battered, Torres Saga & Andy Gray's Top10 potential Jobs
The Weekly Roundup: Crappy Wigan, Adebayor sneaking into Spain & Andy Gray's Top10 potential Jobs.
A roundup of the week's event, in a 'smashing' (Richard Keys copyrighted) edition of The Weekly Roundup
A roundup of the week's event, in a 'smashing' (Richard Keys copyrighted) edition of The Weekly Roundup
24.01.11 Diame & life in 'Crappy Wigan' – 'The truth about life in Wigan is that there is nothing to do. It is a crappy place. The town is tiny, and there is no atmosphere' Not my words but those of Wigan's Senegalese midfielder, Mohamed Diame. On Monday The Mirror published excerpts from the player's interview with French magazine So Foot, where he laid into the town's nightlife, girls, team and frankly everything else to do with Wigan. (here's the full interview if you missed it, http://www.mirrorfootball.co.uk/news/Wigan-star-Mohamed-Diame-attacks-the-club-the-town-and-its-girls-article681041.html) Insult who you want Diame but calling Wigan a crappy place is a step too far, didn't you know that you're talking about the home of 'The annual World Pie Eating Contest?' Now how's that for your entertainment pleasure?
24.01.11 Dider Drogba's cracking goal against Bolton – http://www.youtube.com/watch?v=wsEplx2XYH0
25.01.11 Adebayor's to Real Madrid  #whatthef*%k – In the midst of all the week's madness Emmanuel Adebayor snuck past Spanish airport security, headed to the Bernabeu and passed a medical (which credit to him I'd have put money on him failing). The former Monaco, Arsenal and Manchester City front man has added Real Madrid (on loan) to a very impressive CV, but god knows how he's done that. It's not that he's a bad player, it's just he's not a very good one either, not really worth all the hassle… sort of like… Erm…… Benzema…. Oh wait you already have Benzema Jose, so why would you want an even poorer version. Yeah Madrid have a shortage in strikers but funnily enough I don't think that has anything to do with it. My theory's that Mourinho misses Drogba loads, and Adebayor uses the same hair gel as him, close your eyes (and you have to do alot of eyes closing with him on the pitch) and you almost kind of can picture Drogba there? Latest: Adebayor made his debut last night as an ineffective second half substitute, as Madrid lost 1-0 to Osasuna and fell seven points Barcalona, bummer!
25.01.11 Wembley day out – Five years of now tedious tea cups and dusty trophy cabinet jokes (which I could never understand, as with all the money made at the Emirates they're bound to have a terrific janitor) potentially could come to an end, with Arsenal through to the Carling Cup Final.
26.01.11 Another moment of genius from West Ham's owners – David Gold, David Sullivan and Karren Brady didn't travel down to Birmingham in fears that they'd jinx the game, unfortunately Avram's ability outweighs any hex conceivable. (The unjinxed Carlton Cole however scored a cracker http://www.youtube.com/watch?v=HAO4GFzot7E)
26.01.11 Richard Keys, a shovel & Talksport – Richard Keys on Talksport made for fascinating radio, but of course it would it's not every day you get someone committing suicide live on air, even Ofcom Watchdog found themselves so intrigued they couldn't bring themselves to stop it.
28.01.11 Capello and an Idea – All Capello needed to do with his remaining 12months in charge was collect his huge monthly pay packet, continue bunking his English classes and lead us to a disastrous European campaign, nothing more and nothing less. But of course that was too difficult for the Italian, he attempted to use his brain, formulated an idea and Jack Wilshere became the new Claude Makelele.  Ever needed evidence that designer specs where just plastic frames with labels glued on Capello's provides it, Claude Makelele, who have you been watching? Only god knows how he worked that out. Wilshere doesn't even play that role for Arsenal, in fact you could just get away with calling Alex song a holding-ish midfielder. How do you see England's brightest creative prospect and decide to deploy him as a defensive midfielder, oh, because the national side flooded with talent isn't it.
28.01.11 Ancelotti Vs Ambrovich – Chelsea's lack of activity this January highlights a conflict in interest between owner and manager. Ancelotti's interested in the targets he's identified and Ambrovich has conflict with that. They've been back and forth with Benifica over David Luiz before the deal was called off, piped by spurs to Steven Pienaar when it looked a done deal, and a late below value bid of Fernando Torres.
28.01.11 Torres transfer saga – The big footballing question: Will Man City attempt to Hijack the deal for Torres?
FA Cup Weekend – How I do love FA Cup weekend and even the endless renditions of 'Que Sera Sera' it comes with.    
Torquay 0 vs. Crawley 1 – I officially became a Crawley Town fan on Saturday well until they knocked out anyway, (& with United next round that's probably for the next 90mins) after their victory against Torquay. But it wasn't their win that gained my hollow affection it was because of how much they reminded me of a Sunday League side. Players arguing to take the pens and then missing them away, the game not starting on time because of fans, and players doing some more arguing. I was half expecting a dog to run on the pitch, the nets to be taken down and then the team changing at their cars. http://www.footytube.com/video/torquay-united-v-crawley-town-71648
Fulham 4 Vs. Tottenham 0– Undoubtedly the shock result of the weekend at Craven Cottage. Is Spurs' season about to go down the pan or am I asking a stupid question and it already went down there?
Highlight of the week

–
This week's highlights come from three of the best Goals in the FA Cup fourth round, as always which goal deserves it you decide (please leave your comments below)
David Bentley vs. Coventry http://www.footytube.com/video/birmingham-city-coventry-city-jan29-71687
Matt Tubbs vs. Torquay (see above)
Victor Obinna (2nd goal)vs. Nottingham Forest http://www.youtube.com/watch?v=K242_lUhqvQ
The Weekly Strip
Former Scottish headerer and Sky employee for twenty years Andy Gray, now finds himself out of work, at home and watching daytime TV (not Loose Women one of those naughty channels on Sky Virgin) Eventually though he'll need an income to fund his Nuts magazine subscription, bacon & beer diet, so The Weekly Strip offers a list of potential job prospects he should look into…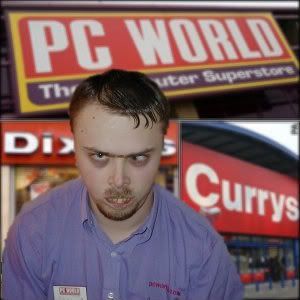 Electronics Salesman – His expertise operating the latest electronics almost allows him to walk straight into a job in retail. PC World, Currys and Dixons will be front runners to obtain the services of the Scots man. A potential problem they may encounter when trying to persuade him to take role however may be the fact that Andy has possibly developed a phobia of camcorders and microphones.
Chief Socceroo – Andy Gray could appoint PR Guru Max Clifford to take control of proceedings, (proceedings being the rebuilding his career) who will find him a gig in Sydney as gaffer of a woman's soccer team. The experience will be a great way to educate the ignorance out of Andy and bring him up to date with life in the 21st century… and make for smashing PR of course!
Gunnersaurus – Andy's been described all week as an out of touch, prehistoric, DINOSAUR (about 50million times) – so why doesn't he become just that, a dinosaur. Arsenal's mascot, The Gunnersaurus provides him with the opportunity to still be involved in football, hide his identity and wear a uniform which comes with a manual of how to slip it on and off – so there will be need for anyone to do any tucking in for him.
Breakaway station with Ron Atkinson and Rodney Marsh -Leave your mic on, get sacked and wilt away into a world nothingness, as has been the story of the 'victims' that came before Andy. But what if he changed that and started a new trend. He could ring up Atkinson and Marsh and form a new sports station. If they can find a way around that little thing called broadcasting policies, regulations and ethics then there in business.
Househusband http://www.youtube.com/watch?v=k_RvKIdqd-U Presented with the opportunity to move back down to Merseyside would be appealing, presented with the opportunity to move back down to Merseyside and become househusband to Steven Gerrard, well that's just a no brainer! Andy's love for Liverpool's captain is well documented and if they can sort out the dynamics between themselves (Gerrard has a little a situation with his wife and kids also living there) then Andy's well in there.
Full Time Pro Evolution Soccer Commentator – Inevitably soon to be stripped by EA Sports of his FIFA commentary role Andy should fear not, as there's a position for a man fifty years behind his time at a game which seems to regress every year, Pro Evo. Currently playing catch up with FIFA, they'd jump at the opportunity of bringing on board their sorry leftovers.
Mystic Meg's assistant – How many times would Andy call a prediction right? An eighty fourth minute equaliser against your side, followed by a long hard chuckle, a heavy Scottish accent spouting some horrible saying (about three Pepe Reina's in goal) and the infamous 'Take a bow son', and How much would that P*ss you off being on the receiving end? His supernatural ability and celebrity status however provides him the chance to form a duo alongside (yes alongside Andy) the country's most famous psychic, Mystic Meg. But then again maybe he's not that much of a psychic seeing as you couldn't predict his sacking.
Talksport presenter – Talksport has the ability to make, remake and break careers (and on the odd occasion a muppet (Richard Keys) comes in and does it himself) Not scared to appoint a controversial figure, and everyone deserves a second chance (or fifty in Russel Brand's case). The downside however may be the fact that he'd no longer be top dog, as there's a host of big names on the station, but on the plus side there must be loads of shiny stuff in the studio, he could even pretend he was on 'The last Word'
A premier league referee -In fairness to Andy it wasn't only Sian Massey being female that bothered him, he's had a problem with referees and officials for as long as I could remember. He'd sit alongside Martin Tyler and just complain for the duration of the game about their inability to get a decision right, as they haven't played the game at that level. Well if you believe you could do a better job Andy, here's your chance.
England's next manager – Already on a first name basis with the majority of the team (Wayne, JT, Steven, Frank) and with Fabio Capello soon to step down 2+2 I guess. He'd feel right at home with Ashley Cole, Wayne Rooney and JT with all the respect they have for their 'birds'
Or in the unlikely event he doesn't choose any of the above and instead retires with his fortune and massive mansion of his ……with Steven Gerrard of course (Joking, joking)
Look out for The Weekly Roundup Every Monday and Feel free to follow me on twitter @marvinwilliams
Other News
Barcelona are in advanced talks with Chelsea defender Marcos Alonso over a summer transfer,...

Manchester United are leading the way to sign Napoli striker Victor Osimhen this summer,...