Breaking out the academy: 6 young guns tipped for success at Arsenal
Here are 6 academy graduates who have been tipped to breakthrough into the Arsenal first team squad over the coming seasons.
Arsenal, Arsenal, Arsenal. Are they in a crisis? Hopefully not yet, but with a little over a month of the transfer window left, there's still some serious business to do. Therefore, instead of skimming through the numerous rumours that will inevitably pop up before the window shuts at five o'clock on the 8th August, we thought it'd be better to have a look who's available within the academy. 
You know the academy, the place where clubs spend millions upon millions of pounds, acquiring and training talent at a young age, only to decide they can't be trusted within the first team. In spite of this, every now and then one of these fortunate lads does breakthrough and finds themselves an integral part of the squad.
As well as saving on the transfer budget, academy players also help Arsenal fulfill their quota of ensuring a minimum of eight first team squad players classify as 'homegrown'.
Currently Hector Bellerin, Ainsley Maitland-Niles and Alex Iwobi are all proud graduates of Hale Lane, and with Freddie Ljungberg moving from his job as coach of the Under 23s to assistant coach of Unai Emery, one would expect there's a real chance some of these boys will get an opportunity to break through. 
REISS NELSON
Reiss Nelson is a young and pacey winger who spent last season on loan at Hoffenheim. With Arsenal so desperate for a winger last year, some hoped he'd been involved within the first team sooner. However, the powers that be decided he'd be better off in the Bundesliga where he scored seven goals in 23 games, and even grabbed an assist for his troubles.
The Gunners are being linked with an £80m move for Zaha and while it'd be a great signing, can we really see the club splurging that kind of money?
One can hope, but until then, here's to Reiss Nelson playing on the wings next year. He's certainly more inspiring than Mkhitaryan, and it wouldn't be a huge shock to see him overtake Alex Iwobi.
Overall, Nelson has everything to offer, so I'm sure Ljungberg and Emery will be looking to integrate him in to the first team next season.  
EDDIE NKETIAH
Nketiah is probably in his last chance saloon season where he needs to make an impact or will be sold. After growing very comfortable in his seat on the bench, there were mutterings that Eddie was frustrated at being denied a loan move in January as he was then used sparsely throughout the remainder of the campaign.
He grabbed his first Premier League goal on the final day of the season against Burnley, and although he was overlooked for the U21 world cup, he scored two goals in the three games at the u-20 Toulon Tournament.
Unfortunately for Nketiah, if Arsenal are sorted in one position it's upfront with Lacazette and Aubyameng. Therefore, maybe it's a season on loan for Nketiah?
Then again, with a good pre-season, he could secure his spot in the squad, and who knows, Marcus Rashford sprang out from nowhere, who backs Eddie Nketiah to do the same?
JOE WILLOCK
Willock is another one who's flirted with the first team squad over the past two seasons. An attacking centre midfielder, he made an appearance in the Europa League final, having more of an impact than the world class Mesut Ozil.
Understandingly, away games aren't for Ozil, and as Aaron Ramsey has joined Juventues on a bosman (honestly is there a club worse at managing player contracts?), this could be Joe Willock's chance to make a name for himself in the Arsenal shirt.
He scored two goals in two matches during the under 20 Toulon tournament so should return to pre-season full of confidence.
Lastly, Willock has a brother who players for United and another at Benfica B, so for the sake of sibling rivalry, get Joe a real run of games Freddie.
BUKAYO SAKA
Another winger and this time it's 17-year-old Bukayo Saka. Certainly, a rawer talent than Reiss Nelson but that kind of fearless confidence can be the best times for pacey wingers.
To earn himself a spot in the squad, Bukayo will probably have to improve upon his defensive responsibilities. However, Arsenal are already pretty shoddy at the back, so there's not that much harm in including a powerful winger to march through the pitch.
Most likely, Saka will be limited to Europa League and EFL cup games. But having been a star performer within the Premier League 2 – where Arsenal came second – Saka has the advantage of being someone Ljungberg has coached all season.
There's no doubt Ljungberg will be pushing Saka to make a real claim for himself this season, let's hope he captures it rather than let's it slip.
KRYSTIAN BIELIK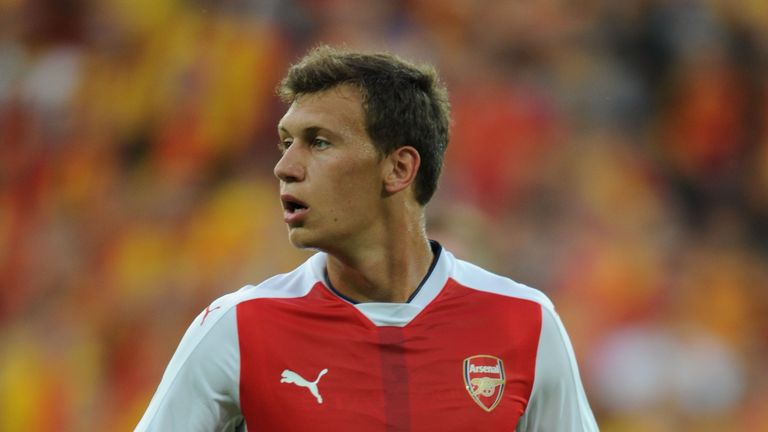 One thing every football fan knows for certain is that Arsenal could do with some centre-backs. Consequently, as Arsenal shattered defensively for the umpteenth season in a row, many fans asked surely, it's time to have a look within the academy?
Well they didn't, but there was one centre back on loan that is very much in now or never land with Arsenal. Aged 22, Bielik was signed in 2015 for £2.4million. He's gone on to make an impressive 0 starts for the club, with his only first team appearance as a 60th minute sub in a 3-0 loss to Sheffield Wednesday in the EFL cup.
However, when he's not been playing for Arsenal, he has had loan spells with Birmingham City and Walsall. But it is his most recent time at Charlton where he's been most impressive.
Playing in 34 games, the Charlton assistant has tipped him for a 'big future'. And it feels like, why not make that at Arsenal?
Emery doesn't seem the keenest on the idea and if you believe the rumour mill then it seems as if Krystian will be on his way out of Arsenal. Yet, what if, any club that comes in for him, the club just offer Mustafi instead?
Surely Bielik can't be worse than Shkodran. Surely!
JORDI OSEI-TUTU
After Hector Bellerin's injury in January, Arsenal spent the season using make-shift or worn out right backs. Although Ainsley Maintland-Niles made a valiant effort at the task, one can't but look at the success of Trent Alexander-Arnold and Aaron Van-Bissako as reasons why young full-backs should be given chances.
And Arsenal had their own athletic right back to offer. Jordi Osei-Tutu not only has a brilliant name, but he's also alright with the ball at his feet.
There seems to be a growing pattern that Unai Emery isn't ready to throw in youth players, but in his first season, he can be understood for being cautious. Yet, with Lichtsteiner showing what 'past it' looks like, would it have been that awful to see how 'not quite ready' plays out?
Unfortunately, Osei-Tutu won't be showing anyone what he can do next year either, at least not in an Arsenal shirt, as he completed a loan move to Vfl Bochum who play in Bundesliga 2.
Chances are Arsenal wouldn't have signed Bellerin cover by the time he returns, so let's wish him a successful loan spell in the hope of him returning to Arsenal stronger.
…………………..
There we have it, the Arsenal academy boys most likely to break through, but remember, the beautiful feature about academy football is that the players who are tipped for years can amount to nothing and then out of nowhere one comes along and smashes through.
With Arsenal's reported transfer budget, they're no doubt in need of such opportunities, so if it's not one of the boys mentioned above, then let's just hope that any of the young guns playing in the academy sides breaks into the squad and makes their mark.
Other News
Chelsea manager Thomas Tuchel wants to solve the club's goalscoring problems by signing two...

Manchester United have been handed a blow in the pursuit of Benfica striker Darwin...