Why is football so attractive to so many people?
Football is a sport with great attraction and it's become the most popular sport on the planet. Hundreds of millions of fans in different continents are willing to cheer their team passionately when watching games on TV or attending the matches live at stadiums. Football fans are not only passionate about watching football, but they also follow football-related news religiously.
Football is so popular that the whole football industry generates billions in revenue. The wide open relationship between football, betting and gamblers makes football more and more attractive in this industry. With revenue streams at a super-profitable level, bookmakers are not afraid to increase investment in advertising and sponsorship. You see the names of bookmakers everywhere, including printed on players' jerseys. For example, w88 alone have partnered with clubs like Leicester City, Wolverhampton Wanderers and w88 is the current sponsor of Crystal Palace FC.
There are star players who earn tens of millions of pounds per year directly from their professional football activities. Why is football so attractive to so many people? Please join us to find out why!
Fierce resistance
Football is a typical cross-game. In football, players from 2 sides compete on the pitch, not just rushing to the finish line in athletics. Not only that, they also face each other directly, not through the net in the middle of the field like volleyball. There is direct contact in football which makes it fiercely competitive.
Of course, sports are all about competition by nature. But perhaps no other subject has the same degree of "fighting" as football. Even physical antagonistic martial arts (such as karate, judo, taekwondo), even with a very high element of force such as boxing, are far behind football in terms of combat and attractiveness.
The opposition in soccer matches is a collective and non-linear one. So it was like a real battle, with many combat operations by "soldiers" and "military tactics" attached. Soccer is actually a battle simulation in the form of a very interesting game, in which two sides describe a sudden collision to "win" the ball and perform "bombard" of each other's goal.
Variability
It is thanks to this transformative factors that each ball game is very different, no match is repeated exactly the same, and therefore is not tedious.
A soccer match (with 11 [players on each side) is the result of a variety of combinations. The number of players on the field is quite large (overwhelming individual sports such as tennis, badminton and outperformed sports like volleyball, handball, futsal), making the game exciting. The diversity is further increased when the field is not divided by a line of nets in the middle, allowing players on both sides to mix, penetrate each other's field and create more "combinations".
Not only that, the 11-man football field is much larger than the basketball, volleyball and futsal court. This is the space for diverse and dramatic activities in the framework of a soccer match.
Football varies from pass to dribble. The ball entering the goal also has many different ways, from using your feet (in different ways) to hitting your head, from different angles and directions, from different distances, in different trajectories (light, thick, straight, curled, simple or very light stretch). Often putting the ball in the net is the result of a very rich and beautiful set of combinations (either individual or group).
The subject also has a variety of tactical formations and gameplay. Even in a ball game, coaches of a team can flexibly adjust the formation and play style to suit the changes on the field.
Suspense and surprise
Handball, table tennis, badminton or volleyball all have very high scores. So, in some of these games, the tension can be lost if a particular player or team runs-up a healthy lead.
However, in football matches the score is usually very close with each goal carrying considerable weight. Even when a team goes 1-0 or 2-0 up there is still lots of tension in the game as things can change quickly if the opposition pulls a goal back. There is always excitement in the match up until the 90th minute.
There is also an element of luck which can lead to surprises in football. A slight deflection could lead to a shock goal or a poor referring decision may give the underdogs an advantage. That little bit of luck can determine the outcome of a match. These factors contribute to 'the beautiful game' and make it difficult for bettors.
Artistry
The thrill factor can be greatly reduced when we look back on a past game which we already know the result. But its artistic character is still there – enough to keep the audience entertained.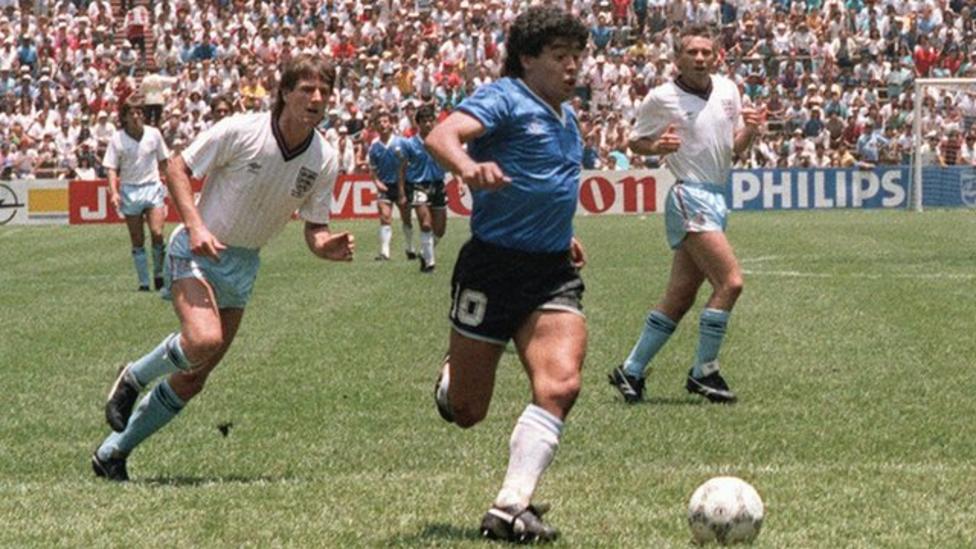 Once described as the "Goal of the Century", legendary player Maradona dribbled through practically the entire England team to score a superb goal at the 1986 World Cup. Even though we know the result, this goal is still watched hundreds of times a day by fans throughout the world due to it's beautiful artistry.
High level of entertainment
Seeing the ball hit the back of the net is what keeps fans on the edge of their seats. They watch as the ball is dribbled back and forth, pinging around the penalty area, keepers making stunning saves, the ball being cleared off the line….these things give viewers huge levels of excitement and make football one of the most entertaining sports around.
Not only that, football is superficial and easy to watch (due to the large playing space), both at the stadium and via television. We see the green pitch, the huge stadiums, the fans signing and cheering….it makes for a great spectacle. Compare that to other sports such as Badminton or chess, and it's easy to understand why football is considered to be so exciting.
Other News
Manchester United will make the strongest bid to sign Barcelona midfielder Frenkie de Jong...

Manchester United are interested in signing Eintracht Frankfurt defender Evan Ndicka, French journalist Fabrice...