The Ultimate Guide to Visiting Liverpool & Anfield
Liverpool is still thriving by offering its rich history, culture, and sporting enthusiasts more than enough to see and do. Here is your guide to Liverpool
Liverpool was once Britain's second most influential port during its Empire. Large amounts of trade used to pass through the docks. This city has a rich maritime history, but Liverpool has now moved away from its maritime-based industry. In the present day, it reaches out to creativity with its flourishing art scene. It's also famous for being the home of music legends, The Beatles, the nightlife scene, and their football team.  While Liverpool may have lost their UNESCO World Heritage title, this city is still thriving by offering its rich history, culture, and sporting enthusiasts more than enough to see and do.  Every traveller will find something that they will love about Liverpool, and you can count on your needs being met or even exceeded.
When is the best time to visit Liverpool?
When it comes to the entirety of the UK, anytime is a good time. England in general, isn't exactly a destination where you can count on good weather. The weather is very unpredictable, especially in the north-west. All year-round, even in the summer, you can expect it to rain. But the summer months usually tend to be drier, so that may be your best bet. August is usually the warmest month of the year, which averages around 22+ degrees, but you can expect warm sunny days during this time of year.
When does the football season run?
For those looking into getting Liverpool tickets, the football season runs for nine months, beginning in August and running through May. You can expect the city to get much busier during the football season as people come to see the football games if Liverpool FC or even Everton (the other football in Liverpool) are playing at home. Anfield, the Liverpool FC stadium, is a sight to see for any football fan, and during the summer months, it's usually transformed into a music venue for concerts.
The music scene in Liverpool
Liverpool is a must-visit for anybody who's a music lover. The city is known to be home to the rock band Beatles, and they wear that proudly. The thriving music scene in Liverpool still lives on today, thanks to all the regularly held events. Sound City is a three-day independent music festival that happens annually in May. In July, they host their International Music Festival for a couple of days which hosts large and small artists alike. A very popular week would be their Beatles weeks in August. They hold a week-long tribute to celebrate the Beatles. But even if you can't attend Beatles week, you can always enjoy the Beatles Museum, and the Beatles statues, and so much more than Liverpool has to offer to all Beatles fans.
How to get to Liverpool
Thankfully it's effortless to get to Liverpool. You can go by train, ferry, drive, or even by plane. One fun fact about Liverpool would be their airport, it's named after John Lennon. Regardless of how you get to  Liverpool, you can expect transport to be straightforward. There are buses from the John Lennon airport that go directly to the city centre, and motorways will take you to the city whether you go by bus or car, and rail is effortless. While Liverpool is a port city, getting there by ferry is a bit more tricky unless you're coming from the Isle of Man, Dublin, or Belfast.
How to get around Liverpool
Getting around Liverpool is as easy as it is getting to the city. You'll find various transportation methods from taxis, buses, metro, bike rentals, and even the fun Ferry known as The Mersey. Public transport, in general, is very easily accessible to locals and tourists alike. The Plusbus system allows users to combine metro and bus travel all on one ticket. The Mersey Ferry is both a tourist attraction and a method of public transportation. Taxis are available and easy to get; the same goes for bike rentals. Liverpool is a bike-friendly city; many city maps will include the city cycle route for tourists to use. There are plenty of bike rental services around, all at very affordable prices.
Is Liverpool a good city for walking?
Like many cities in the UK, Liverpool is excellent for those who prefer walking everywhere. You can get around on foot quite quickly in the city. One of the great things about Liverpool is that many of the major attractions are all within walking distance of each other. You can expect most significant landmarks in the city to be no more than 20 minutes away from each other by foot.
The shopping experience in Liverpool
The Liverpool shopping scene is lovely! There's something here for everybody, whether you're on a tight budget or you want to get something more luxurious. There are plenty of shops within the inner city shopping area, where you'll find some major brands as well as small-scale shops. Liverpool ONE is the best place for shopping in Liverpool, and this complex has all sorts of glitzy shops ranging in multiple budgets. If you're looking for more vintage and quirky items, then shopping on Clayton Square is perfect as you'll find a lot of bargains through this little street, including small businesses and boutiques.
The culinary scene in Liverpool
You can count on coming across a lot of restaurants, cafes, and pubs throughout Liverpool. Matthew Street, Albert Dock, and Chavasse Park are some of the more popular and tourist-oriented places where you can find bars and restaurants. Clayton Square and Chinatown are both excellent if you're looking for some cheap eats.
Liverpool attractions that you can't miss
Is it possible to see all that Liverpool has to offer in 48 hours? Absolutely! There is enough to see and do in Liverpool to keep you busy for days, but if you are only looking to see and experience the city's major highlights, then just a weekend away to Liverpool should be more than enough.  Some of the significant highlights that Liverpool has to offer for anybody looking into spending a weekend there.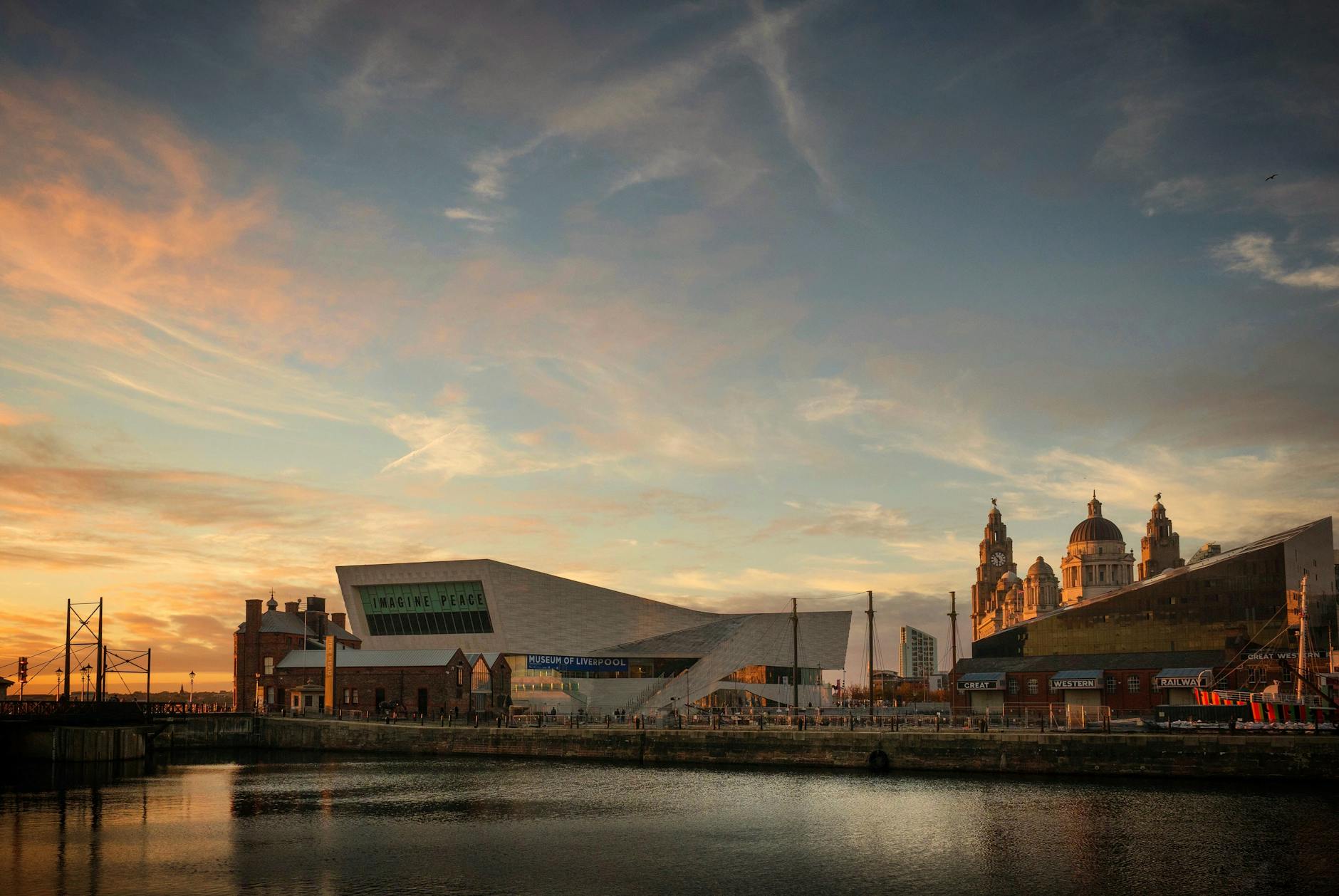 The Royal Albert Dock
The docks on the River Mersey is the best start for a getaway in Liverpool. The Royal Albert Dock was first opened back in 1846 and was known for its rapid turnaround time. This made Liverpool very famous and known to be one of the greatest maritime cities in the world. It eventually took a decline after World War II. Once the 1980s hit, Liverpool began making some changes. No longer were the docks about merchant ships and cargo but instead breathed new life to attract tourists thanks to the museums, walking tours, shops, and restaurants. The Royal Albert Dock was once a UNESCO World Heritage site, but recently the title was revoked.
Visitors could spend an entire day here if they wanted. There are plenty of museums, shops, and galleries to see. There is plenty of food offered in the area from your traditional British cuisine, Thai, American, Italian, and so much more. However, it's best not to spend your whole day here as there is still so much to do and experience around the rest of Liverpool.
Merseyside Maritime Museum
If you're a fan of everything nautical, then look no further than the Merseyside Maritime Museum.  You'll have the opportunity to see many artifacts, models, and even actual size ships! These tell a story about their impact and their importance for trade in the city. This is a fantastic museum for the whole family as there are exhibits tailored to children, and there are even museum tours of the Old Dock available. The entry to the Merseyside Maritime Museum is free, and you can spend several hours there. Amenities such as free toilets and a couple of cafes are available in the museum when you need that little pick-me-up with coffee.
Liverpool FC Stadium
If you're a fan of football or even the Liverpool FC team, you don't want to miss out on seeing the stadium! Even if you're not going to be in Liverpool during the football season or can't find Liverpool tickets, you should still check out Anfield. During the summer months, the stadium acts as a music venue for concerts and festivals. There are tours given around the stadium too. There's even a museum within Anfield as well for visitors to see.
Everton is another club in Liverpool that has its stadium in Stanley Park. You can even go there to watch a game or even get a small tour of their stadium too. But in general, the Anfield stadium is one you shouldn't miss out on, even if you're not a sports fan.
The Beatles Story
While this museum isn't free, if you're a fan of the Beatles or have an appreciation of music history, then this shouldn't be missed.  You'll find plenty of memorabilia from the Fab Four as well as some of their original instruments on display. They even have some of the original writings for some song lyrics as well. You can also tour through replicas of the Casbah Mathew Street and The Cavern in the early 1960s. It's an excellent place to learn a bit more about these four Liverpool lads!
The International Slavery Museum
Within the Merseyside Maritime Museum also stands the Slavery Museum in the same building. This museum shows the history of the city's maritime exploits. The transatlantic slave trade was once a massive aid to the economic growth that Liverpool had. The museum is even located around the area where the trading would have been. You'll learn about the West African culture, traditions, and how the slave trade functioned, as well as the conditions these people were forced to endure. The International Slavery Museum also highlights how discrimination and slavery are still heavily prevalent today as well. The museum is free entry, and it allows you the chance to be deeply educated on the manner.
Tate Liverpool
The Tate Liverpool is the perfect place for all art lovers. You can expect collections of plenty of modern pieces here. This is an art gallery, but it's also an exhibition as well.  This is free entry, and however, for significant exhibitions (such as their previous Warhol and Monet), you can expect to pay a small fee. In the end, it's worth it to see some gorgeous art.
The Beatles Statue
Whether you're a fan or not, you have just quickly to stop and marvel at the statue and its craftsmanship. It's free to look at the statue anyways.  Across the street, you'll find the Three Graces: the Cunard Building, Port of Liverpool Building, and the Royal Liver Building. These are all right on the Liverpool waterfront, a short walk away from the Albert Dock. There is plenty to do here, such as walk by the walk, view the sights, watch the seagulls, take a big breath of sea air, and maybe visit one of the many eateries around the area.
In the Royal Liver Building, you'll find a tour to the top that gives spectacular panorama views of the city. You'll also find the Piers Head nearby, where you can take the ferry across the Mersey. The ferry is one of the tourist attractions that the city has to offer as well.
Beatles Tour
Beatlemania isn't over just yet! There's a special tour dedicated to the fab four here in Liverpool! Did you know that most of the songs were based on Liverpool? That's right! Two of the most famous ones were Strawberry Fields and Penny Lane. But there are plenty more to see and experience by foot, such as the John Lennon and Cilla Black statues outside the Cavern Club, going through modern-day Mathew Street, check out some of the pubs the Beatles used to go to, where they all went to school at, and even their childhood homes! This little DIY tour requires a bit of research (unless you want to hire a guide), but if you're a major music fan, or love these rock legends, then you can't miss out!
Other News
Liverpool are at St Mary's tonight knowing they need a win over Southampton to...

Manchester United are one of the best placed clubs to sign Benfica forward Darwin...