Why 'Arry Must Ditch Gomes And Get A New Keeper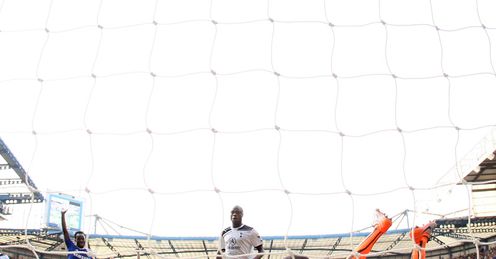 One of the great things about being a football fan is being able to laugh at opposition players mistakes. No matter how good or crap that player may be, whether he's playing for AFC Sudbury in the Ryman League or Bolton in the Premiership, fans always enjoy laughing at the misfortune of other players.
This season in the Premiership, there's been one player who it seems this year has just got worse, who has made more hilarious mistakes and gaffe's than well anyone else in the last couple of years.
The player in question that I am talking about here is none other than Heurehlo Gomes, the man who is fast becoming Tottenham's most calamitous goalkeeper since Ian Walker.
I am not a Spurs fan nor am I somebody who hates Spurs with a passion (that would be my brother) but I do enjoy hearing and seeing Gomes make mistake after mistake. It has puzzled me how Harry Redknapp up until the final couple of games of the season continued to pick Gomes week after week as any other manager by now would have dropped the butterfingers-like Brazilian for good months ago.
Mind you with Spurs' goal keeping options not being that much better, perhaps sticking with the Brazilian was the most sensible of the choices. Carlo Cudicini, despite once being a top goalkeeper at 37 isn't getting any younger and with his recent injury problems perhaps cannot be trusted to play a tough schedule in the Premiership.
After that there's the Croatian Stipe Pletikosa who chose to swap being the second choice keeper at Spartak Moscow to being the third choice keeper at Spurs. It's been fair to say that Pletikosa has been pretty much unheard of since the move and his only game for Spurs was in the Carling Cup earlier this year when they lost 4-1 at home to Arsenal.
I do feel a tad sorry for Pletikosa as it's since come out that he was promised by Redknapp that he'd get a chance to get a run in the team. Whilst it's somewhat harsh on him that he hasn't got a chance to appear more, it is worth noting that even when he signed for the club it did look highly unlikely at the time that he would play more. That's just football I guess.
Anyway at least he's been able to wallow in pity alongside fellow Croat Nico Krancjar this season in barley challenging to get even on the bench. It's not like the two are lonely at the club when their fellow countrymen Luka Modric and Vedran Corluka are also at the club too.
If Spurs are to make a lasting challenge for a place in the Champions League next season, Redknapp has to get in a new goalkeeper. However many times he comes out in the press talking about the great saves Gomes may have made, 'Arry must realise that enough is enough.
To dropping the ball allowing Nani to score controversially at Old Trafford to his gaffe that led to the linesman awarding Frank Lamaprd a goal at Stamford Bridge this month, Gomes has made some clangers this season.
You almost had to feel sorry for him during his final appearance for Spurs this year, when after saving Charlie Adam's penalty for Blackpool, moments later he gave away a penalty after fouling Gary Taylor-Fletcher in an attempt to get the ball clear.
So who should Spurs go and get to be their goalkeeper next season? 'Arry has four options in my opinion. First up there's Rob Green who would be available to buy from West Ham. Despite his mistake last weekend that enabled Wigan's Charles N'Zogbia to seal West Ham's relegation, Green's had a good season and would be a good choice.
Shay Given would be a tremendous signing as despite the Irishman barley figuring for Manchester City this year, he has the experience and leadership that a top goalkeeper needs. There could be a stumbling block as whether City would let him go to a rival club, but then again they've already made him surplus to requirements this year on the bench so what's the difference really.
Wolfsburg's Swiss international Diego Benaglio would be a great choice in my opinion. He's been one of the top goalies in the Bundesliga for a couple of years now and would defiantly be in Spurs price-range. With Wolfsburg not having European football next season he'd probably be open for a move too – although Arsenal are rumoured to be interested in his services as well.
Lastly of course there's Ben Foster who has come of a good season at Birmingham despite the Midlands club's relegation. For me he ticks all the right boxes for Redknapp in that he's young, has got plenty of experience, is a good organiser of a defence and is one of the best shot-stoppers in the league.
With Birmingham dropping down to the Championship, a price range of £10 Million would probably be enough to get the England international who would easily slot in at Spurs. Whether their rumoured interest comes to any fruition, its vital Spurs get a new goalie.
It's very hard to have faith in somebody who keeps making mistakes. When a goalkeeper admits just as Gomes did after his clanger against Ronaldo this season, that 'that mistake won't be my last' you have to very swiftly move on.
It's not that what Gomes was saying wasn't true, as all goalies no matter how good they are will make mistakes, but when you actually admit that it just comes of as looking stupid and does not do any good for the team.
Confidence is an important thing in football and once defenders lose confidence in their goalkeeper, you might as well be playing with nobody in goal as it's vital at the back you play as a unit and believe in each other.
It should be very interesting to see just who Redknapp does decide to bring in to be his new first choice goalkeeper. After going those options above, my favourite would have to be Foster although I do admit that I would like to see Benaglio play in the Premier League.
Other News
Chelsea remain in pole position to sign Juventus defender Matthijs de Ligt despite fresh...

Arsenal are prepared to make an improved bid for Lazio midfielder Sergej Milinkovic-Savic, according...