3 Arsenal Positives From The Gunners 6-3 Defeat To Manchester City
Arsenal slumped to a 6-3 defeat to Manchester City at the weekend. Here, Gooner Daily gives us 3 positives they can take from the loss. See what he said here.
Arsenal slumped to a 6-3 defeat to Manchester City at the weekend. Here, Gooner Daily gives us 3 positives they can take from the loss.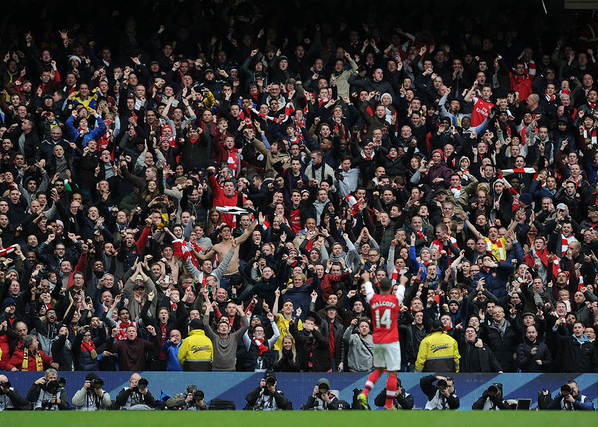 Despite the rather embarrassing and disappointing defeat, there were a few positives taken from the game.
1. Still Top Of The League
Arsenal are at the top because they deserve to be there. The Gunners began the campaign with a stinging home defeat to Aston Villa but they responded with a plethora of successive victories before dropping points against a tough West Brom side. The Gunners picked up another winning run but a Robin van Persie strike at Old Trafford was enough to put a dent in their impregnable record.
The Gunners made the Manchester United defeat look like a blip as they went back to winning ways with victories over Southampton, Hull and Cardiff before sharing the spoils with a resurgent Everton side. In a weekend where Chelsea and Liverpool gained maximum points, they are still trailing behind the Gunners despite their heavy defeat to the Manchester City.
It's Arsenal's hardwork that has seen them lead the chasing pack and despite the defeat this weekend, the Gunners are still on top of the Premier League and shouldn't be too despondent.
2. Never Giving Up Attitude
Laurent Koscielny was caught ball watching as Sergio Aguero crept in at the far post to fire home a fantastic opening strike. Theo Walcott responded with an equalizer but the Gunners were the masters of their own destruction as more individual errors led to two Manchester City goals to make it 3-1.
Instead of sulking and resigning themselves to a 'routine defeat', the Gunners launched waves and waves of attacking football that saw Olivier Giroud miss two great chances before Walcott stepped up to the plate with a finish Thierry Henry would have been proud of.
Nacho Monreal's disastrous showing on the left was on display as David Silva's goal took the wind out of Arsenal's sails and Fernandinho's second strike put the game beyond doubt but Walcott continued to push hard causing Costel Pantilimon to make some smart saves to deny him a hat-trick. Right at the death, Bacary Sagna lofted a cross that was headed home by Per Mertesacker to give the Gunners a consolation goal, but Yaya Toure's penalty was the final nail in Arsenal's coffin.
Despite the resounding defeat, the Gunners pushed themselves to the limit and their never-say-die attitude saw them score three goals at the Etihad, a ground where the hosts had conceded just two goals prior to Arsenal's visit, while we also had two goals controversially ruled out for offside and should have had a penalty.
3. Theo Walcott's Performance
It took him a while to get off the mark this season but Theo Walcott's technically adept finish against Marseille gave the fans a glimpse of what he's made of but at the start of the game against Stoke, Walcott suffered an abdominal injury and it was revealed that he needed surgery to mitigate the issue.
In his absence, Serge Gnabry had a brief stint against Stoke, Swansea and Crystal Palace but Arsene Wenger also handed starts to Aaron Ramsey, Tomas Rosicky and Jack Wilshere on the right flank. Like Walcott, Gnabry offered some width and directness on the right, but attacking midfielders like Ramsey and Wilshere preferred to cut in, offering a different dimension to Arsenal's attack.
After two months out, Walcott made his first start against Manchester City and he was the shining light in a relatively dark day for his team. With the 30 touches Walcott had in the game, he made 11 passes with a 91% accuracy and took five shots, four of which hit the target and two that hit the back of the net.
He also attempted six crosses with only two reaching its intended target and he had two offsides that were wrongly called by the officials that were very poor all game long. Pablo Zabaleta used his hand to block Walcott's shot but the ref gave a deaf ear to Arsenal's appeals for a penalty.
In what was a very disappointing game for Arsenal, Walcott's performance stood out by a mile and he proved how indispensable he is to his team.
The Gunners now have to take some time out, watch the videos of this game and learn from their mistakes before hosting Chelsea, a team which the Gunners have an appalling record against, on Monday night. At least we have an entire week to right all the wrongs.
This post was originally published on Gooner Daily – you can check out their Facebook page here.
Other News
Manchester United are very close to finalising the transfer of Barcelona midfielder Frenkie de...

Arsenal are in advanced talks to sign Raphinha and will submit an improved off...