The Most Controversial Refereeing Decisions Seen at Old Trafford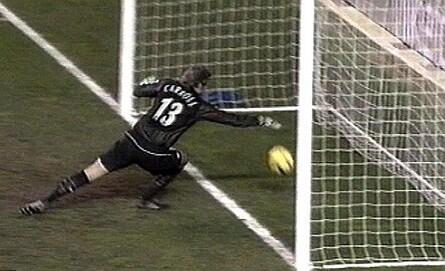 It's fair to say that Old Trafford has seen its fair share of questionable refereeing decisions over the years. Here are some of the most notable ones:
Fergietime is invented
Way back in 1993, Manchester United hadn't won the league since the 60s. The previous season they had choked in the run-in, surrendering the title to hated rivals Leeds. Another series of defeats the following year made it seem as if they were doing the same again and they were one down to Sheffield Wednesday at home.
But with time running out, captain Steve Bruce equalised. Then Fergie's watch generated six minutes of injury time and Bruce popped up to win the game too.
Today, 'Fergietime' even has its own Wikipedia page.
A linesman spares  Roy Carroll's blushes
When Tottenham's Pedro Mendes tried a speculative lob from the halfway line at Old Trafford, it appeared bread and butter for United keeper Roy Carroll. But the butterfingered Northern Irishman made a huge mess of the shot, fumbling it over the line marking.
Everyone inside Old Trafford saw it go in – except, crucially, the referee and his luckless assistant. Roy Carroll got away with it, big time.
Howard Webb gives yet another dodgy penalty
Poor Spurs don't get much luck at Old Trafford. To the delight (and surprise) of their visiting fans, the north Londoners were two-up against United with barely more than half an hour to play. Then Howard Webb, a man not averse to awarding peculiar decisions at Old Trafford, gave a  scarcely-believable penalty to the home side. Spurs, being Spurs, crumbled. United ran riot, winning 5-2.
Fergie dumped out of the Champions League
United don't always have it easy at home. At home to Real Madrid in the last 16 of the Champions League, United were 2-1 up on aggregate and looking comfortable when Nani was sent off for a debatable high challenge.
Real capitalised on the extra man, dominating possession and scoring two late goals. It was to be Alex Ferguson's final European match. The Scot was too distraught to talk to the press afterwards.
United beat The Unbeatables… with help from Mike Riley
In October 2004, Arsenal were 49 games unbeaten and just 15 minutes away from making it to a half century with the score 0-0 at Old Trafford. Then a very controversial piece of simulation by Wayne Rooney fooled referee Mike Riley into giving United a highly dubious penalty. Ruud Van Nistelrooy smashed it home and Arsenal lost their record.