Arsenal 1-2 Man Utd: Gunners Performance Analysed Back-To-Front
Arsenal slumped to a disappointing 2-1 defeat to Manchester United at the Emirates on Saturday night. Here, Gunner333 analyses the North Londoners performance from front to back.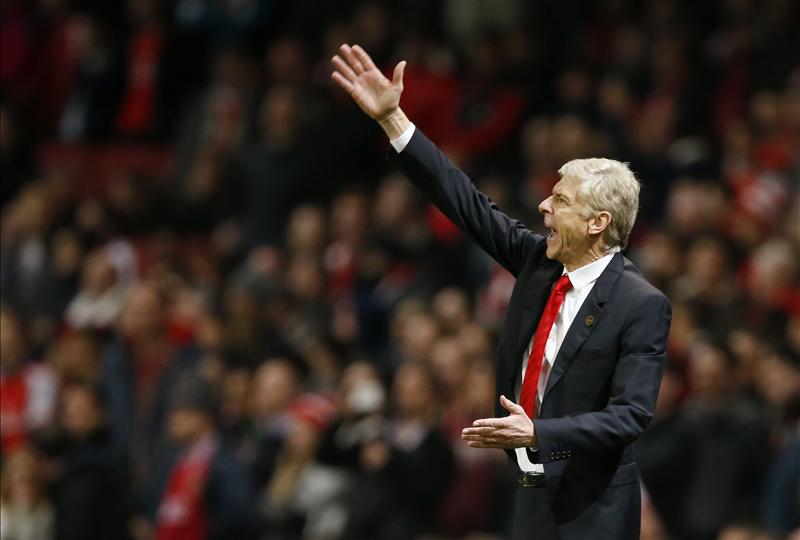 International break concluded, the Premier League returned with a classic encounter as the Gunners hosted a Manchester United side which they had only beaten once in their previous 14 meetings in all competitions. Wenger made two changes to the side that lost at Swansea, replacing Flamini with Wilshere who impressed for England, while Cazorla was left out for Spanish compatriot Mikel Arteta.
Arsenal looked very comfortable in the early stages, eager to take advantage of a vulnerable United back-three set-up by Van Gaal. Chances came and went for Wenger's forward men, but no break-through could be found with Wilshere and Oxlade-Chamberlain both spurning good opportunities.
Regardless of the growing number of chances, no Arsenal player could finish one off and the team paid the ultimate price at the opposing end. A moment of great misfortune for Kieran Gibbs, who bundled home Valencia's cross into his own net to supply United with an undeserved lead.
A constant peppering of United's end then resulted in a massive blow for the home side, who were caught on the break. Rooney sealing victory five minutes from time, from a one-on-one chance with Szczesny. No way back now for an Arsenal team  who would be rueful of their inability to convert in the game's early stages.
One sign of good amidst a dismal afternoon for Wenger's men was the return of Olivier Giroud from a three-month spell on the sidelines and the Frenchman supplied a hint of hope with a stunning late strike. The substitute peeled away at the far post to unravel a fierce effort into the top corner, to deny the sensational De Gea a clean sheet.
Giroud's late rifle was no more than a consolation however and the Gunners faced back-to-back defeats in the Premier League, now a woeful 15 points adrift of league leaders Chelsea.
A frustrating result which I shall now get to the roots of in analysing the team from back-to-front.
At The Back: 5/10
Not as calamitous as recent weeks, but the Arsenal defence still looked rather shaky and both United goals came courtesy of our own errors, as oppose to any Red Devil quality going forward. The first was the result of blinding mis-communication between Gibbs and Szczesny, slightly concerning to see our usually reliable full-back so badly out of position, the unfortunate deflection the icing on the cake.
Mertesacker generally marshalled the defensive line well, Monreal exhibiting no clear-cut errors but the Spaniard is still looking as if he lacks an awareness when playing through the centre and Koscielny's return will be well heralded.
United's second came via Arsenal's lack of composure and impatience. The defence pressed so highly, that it became easy to be dissected by the single through ball up to Rooney, after that it was light-work for the Englishman and Van Gaal's men had been gifted three points.
The defence weren't completely to blame for the result as we generally kept tabs on some world class talent in Di Maria, but our back four were left totally exposed at time.
In The Middle: 6/10
We dominated the midfield for much of the game and had the lions share of possession. Jack Wilshere bossed things in the first half but missed a glorious chance to open the scoring when put clean through by Welbeck only for his effort to be well saved.
My Arsenal man of the match award lays with Oxlade-Chamberlain however, who set-up chance after chance, bullying Luke Shaw in the game's early moments and no United player could anchor the winger down. He exhibited an excellent range of movement and deserved to be on the winning side.
Mikel Arteta's return certainly helped with our ball retention in the middle of the park but he did go missing when United broke clear to score the decisive second goal.
Up-Top: 3/10
Despite bossing the game and creating a hat-full of chances, Arsenal just couldn't take advantage of their dominance when it mattered. From a psychological perspective, had the hosts been clinical in their attempts to bury the early opportunities and found themselves two or three up, then the Gunners could have simply sat back, defended and hit United on the odd counter during the second period.
Instead, it was the other way around and the inability to find the net when the chances fell called for United to firstly go one-up on the break without even having a shot on target and then, due to Arsenal's over-eagerness to get the equaliser, the visitors grabbed a second on the break.
For the first time in several weeks Sanchez was quiet and could not pick up the right positions, whilst Danny Welbeck looked all over the place, not making the most of the exceptional wing-play. In reality, the front-line only had to break down a defence compiled of two very inexperienced centre-backs, an England flop and two defensively poor wingers.
All credit where it's due though and David De Gea put in a stunning MOTM display, but at times his stops were routine and Arsenal failed to test him as much as they should have done with the chances that came their way.
A pleasing sight to see Giroud's return and if he can chalk up a few of those finishes this season, it will make a big difference. My hope is the Frenchman's pressure on Welbeck for first team football will start to improve the former-United man up-top also.
Wenger: 4/10
Old-fashioned, stubborn, naive. Just some of the descriptions being aimed at the Frenchman on a daily basis. Of course a result should firstly be based on how the team perform themselves, but when things start to go wrong on the pitch, the players need some guidance from the sidelines.
His initial starting eleven was inventive and looked like it would pose a real-threat which it generally did, but as we lost the strangle-hold in the game, I saw no eagerness to switch things around. How could the boss allow both our full-backs to bomb forward when we were just 1-0 down with 40 minutes remaining?
The once exciting, creative Arsenal team now seems long-forgotten, as the play is stale and organisation at the back is non-existent. As desperate as I am to demand 'Wenger Out', perhaps the chants are still a touch premature, but if urgency is not shown in making Arsenal more defensively resolute and efficient up-top, then I will request that Mr. Wenger head for the exit door like a growing number of Arsenal fans…
Thanks for reading and feel free to comment below!