Paul Pogba Reacts On Social Media After Jose Mourinho Is Sacked By Man Utd
Paul Pogba has aimed a cheeky dig at Jose Mourinho after the Portuguese coach was sacked by Manchester United this morning.
United released an official statement on ManUtd.com this morning confirming that Mourinho has left the club with immediate affect following a two-and-a-half-year spell at Old Trafford.
Pressure has been mounting on Mourinho's shoulders for several weeks as United have endured a miserable first half to the new season with the Manchester giants a whopping 19 points off top spot and 11 off the top four after just 17 games.
The final straw came with a 3-1 defeat to Liverpool at Anfield on Sunday afternoon and Mourinho has now been relieved of his duties with Man Utd set to announce a caretaker manager for the rest of the season with a new permanent boss to be installed in the summer.
It hasn't taken Pogba long to react to the news as the midfielder has uploaded a photo to his social media accounts of him smirking at the camera with a message saying 'caption this'.
The post was swiftly deleted as no doubt the United hierarchy demanded it was removed but not before screenshots were taken: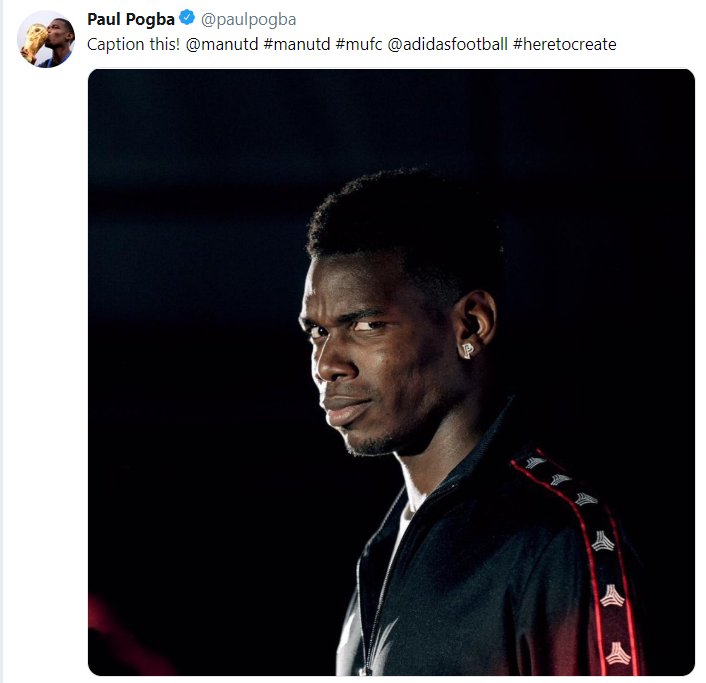 The official line is the photo was to promote Adidas but it's clearly related to Mourinho's sacking and it comes as no surprise as Pogba had a strained relationship with his now former manager.
Mourinho and Pogba have been at odds for some time with the pair involved in public disagreements in training and on the touchline in recent months with both men also aiming digs at the other in the media.
It's led to Pogba losing his first team place as he's played 15 minutes of action during Man Utd's last three Premier League games against Arsenal, Fulham and Liverpool so it's fair to say he'll be relieved to see Mourinho gone.
It's going to be interesting to see who takes over for the rest of the season and who'll be appointed full-time in the summer but one of their first jobs will be to get Pogba back playing like we all know he's capable of.