Arsenal v Tottenham Preview: Do Or Die Derby
Arsenal host Tottenham Hotspur on Saturday in a North London derby that the Gunners simply have to win. Arsenal writer Jacob Windon previews the big game.
Arsenal entertain north London rivals Tottenham at the Emirates on Saturday lunchtime. Here is a preview from Gooner Jacob Windon.
For the last three weeks, I have described each of Arsenal's previous fixtures as 'must wins'. Perhaps a rotten cliche on my behalf, but looking ahead to today's North London derby, how can you not describe this one as a 'must win'? This is a game Arsenal simply have to win to maintain their integrity and reputation of being one of Europe's biggest clubs. A defeat against Tottenham Hotspur today will signify the lowest point in Arsene Wenger's managerial career. And that is saying something, highlighting what an absolutely vital game this is to our season and our club's immediate future. So, onto previewing this 'must win' game.
There is some slightly concerning team news about Kieran Gibbs, the manager referring to his injury as 'long term'. We really need Gibbs back as soon as possible and to hear the manager put him in the Rosicky and Diaby category is worrying indeed. In other news, Alex Oxlade Chamberlain, Wojciech Szczesny, Bacary Sagna and Theo Walcott face fitness tests. The involvement of each of these players would be handy, especially Wojciech, who let's face it, needs to come back into the side urgently. Assuming that all four of these players recover in time to participate, here is my preferred XI: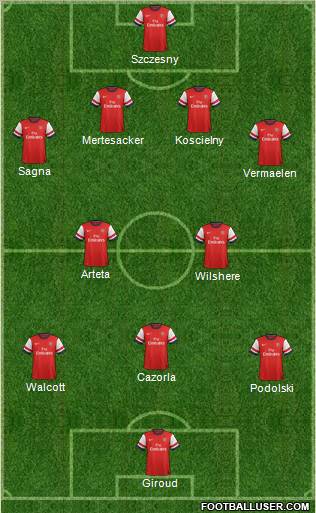 The big concern of course is the weakness of the left back position and the form of Thomas Vermaelen. I found it extremely fascinating, yet worrying at the same time, reading an article this week which highlighted Arsenal's weakness in the general direction of the left side of the field. It's becoming somewhat of a bogey position, Clichy, Gibbs, Santos and now Vermaelen really having a nightmare there, and it's a problem the manager surely has to address in the coming weeks.
Anyway, the two obvious changes from the 3-3 to Fulham are Szczesny's return to goal and Wilshere returning from suspension. These two players are crucial to the spine of the team, and it's imperative that both, especially Szczesny impose themselves on proceedings today. It's a chance for the Pole to inject some much needed security into the back four, and whilst Vito Mannone hasn't done badly (he's not exactly convincing though, is he?) security is urgently required to put a stop to the absolutely ruinous defending.
It's a massive chance for Jack Wilshere, who was well off the pace against Manchester United, but good against Schalke, to shine. In recent displays we've seen teams realize how utterly useless we can be when Arteta is under pressure, and no doubt Sp*rs will try and exploit that particular weakness. In an attacking sense Wilshere will provide some of that much needed thrust and creativity that has been lacking for most of the season, and surely improve us from an offensive point of view.
However, how we fare at the back, and cope with the presence of Adebayor and the trickery of Bale and Lennon will be more important. It's fair to say that we are there for the taking if we defend like we did against Fulham, and no doubt Villas-Boas will get his team to push on. Concentration is the key for the defensive department, let's keep the individual errors to a minimum, preferably none at all, and we have a real chance of putting in a positive performance.
Both Arsenal and Sp*rs have lacked fluidity, cohesiveness and consistency in all areas of the pitch this season, but you get the impression that there will be goals. You only have to look at some of our recent results against them – 5-2, 4-4, 3-3, 2-3, 4-5 – this is a derby and game where literally anything can happen. And given the way this Arsenal team have performed lately you have absolutely no idea what will unfold. We could be 4-0 up and draw 4-4 or be down 4-0 and come back and win 7-5. This Arsenal side are so unpredictable, so confusing, so depressingly and sometimes so positively brilliant.
If we look at the corresponding fixture last season, you'll know that this game was the deciding factor in both team's seasons. Well this game usurps that by quite a distance. You don't have to get me to tell you what a victory would mean for either team. The stakes are incredibly high, and the board is nearly set. The stars of both team's are descending rapidly, and only a win will be good enough.
Assuming that I'm still alive after what will surely be another insane derby, I'll somehow find the strength within my meager mental capacity to review this game. Until then, come on you reds.
As always, feel free to comment below, I can guarantee a reply, but let's keep the obscene language and uneducated criticsm away.
Other News
Manchester United defender Aaron Wan-Bissaka has requested a new contract after the club blocked...

Chelsea will be looking to end the season with a win when they take...