Arsenal Heading For Mediocrity, Time To Respond – Schalke Preview
An Arsenal side low on confidence take on Schalke in tonight's round of Champions League games. Here is Arsenal writer Jacob Windon's preview for the game.
Arsenal's game against Manchester United on Saturday was perceived by many as a true test of mettle – one which was spectacularly failed. What then, is the importance of Arsenal's game tonight against Schalke?
I would not go as far to say it is season defining, but it's pretty much as close as it could get. But wasn't our season defined at the AGM when it was confirmed that fourth spot was once again the goal? The club has dived head first into a free-fall, driven home on Saturday after our hopeless performance at Old Trafford.
We get a chance tonight to either further prove our incompetence, how far we've slipped into a 'small club' mentality, or we can once again lay down a foundation to build on, a foundation that has been constantly hammered and destroyed by our recent incompetent displays. The harsh reality of our club's situation, and it has been leading up to this for years, is that we can no longer compete, and we are slipping, in decline, heading for mediocrity. The only way to stop to decline on the field is to win football matches; starting tonight when we play Schalke.
Without further ado, lets look ahead to tonight's game. It's a game we simply have to win. We sit in second behind the Germans and a win for them pretty much makes it impossible for us to win the group, and leaves us with a mountain to climb. Aaron Ramsey hasn't traveled with the rest of the team after picking up a groin injury at Old Trafford. This gives us the chance to be much more offensive than we have been in previous games, with Theo Walcott the likely candidate to start on the right.
Ramsey receives a lot of unfair criticism in my opinion, and when criticizing the Welshman we should remember he is being played in an unfamiliar position out on the right, with the purpose of keeping possession of the ball and running his heart out to win it back, something which he has done quite well. His tireless ball retaining is an asset to the team that is often ignored by the majority of supporters. We should recognize that Ramsey is doing his job well, and whilst he does make the odd stupid decision and generally dithers on the ball a bit too much, he is still a valuable member to the team.
In my last article, I absolutely hammered Thomas Vermaelen, called for him to be dropped, but after carefully reassessing the defensive situation, I've decided it's probably best he keeps his starting position. However, it's not in central defence. Below is my favoured XI: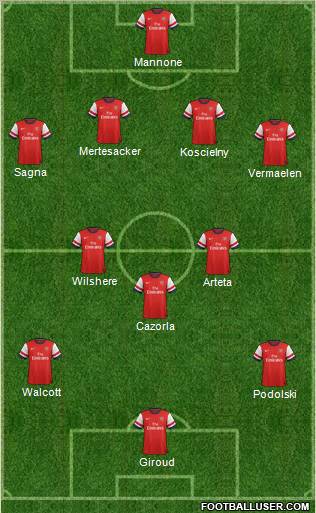 I'd be slightly worried if Andre Santos were to keep his position at left back after his last few performances, so it's the Belgian who gets the nod. It's a chance for Vermaelen, who occasionally plays left back for his country, to get himself back into something which vaguely resembles form. It may be a difficult ask in what he says is not his favoured position, but Thomas, your a professional footballer, the captain of this club, and if I'm honest, you'd be lucky to get in the 18 man squad based on how you've played so far this season. It's time for Vermaelen to pull his socks up and justify Arsene Wengers decision to give him captaincy of the team. Laurent Koscielny then comes back into the team and partners Mertesacker in the centre of the defence. These two generally impress when playing together, so let's hope for a solid performance at the back.
There is a lot of pressure on the midfield to perform tonight. It's such a tiresome thing to say, but keeping possession of the ball is not all that effective unless you do something with it. Sideways passing is something that frustrates the living daylights out of me, and it is often genuinely annoying watching the midfielders constantly passing sideways instead of looking for a forward ball. We've lacked confidence, penetration and cohesion in midfield and the final third, and this has to change for us to threaten the Schalke goal. All eyes are on Jack Wilshere to provide some of that drive and penetration we've sorely lacked in the past few weeks.
Schalke lost at the weekend, 3-2 to Hoffenheim, which might give us a bit of positive energy going into the match. Having said that, we all know how Arsenal played at the weekend, and anyone who approaches tonight's game with optimism is surely blind. Arsenal need to respond positively to what has been an awful couple of games (Reading aside) and it's an opportunity to inject a bit of life into our stuttering start to the season. A draw would be considered a good result in my book, a win even better, but a loss will leave us needing life support.
I must apologise for what's been a slightly shorter article than usual, but it's been a busy couple of days. I'll be back tomorrow for a comprehensive review and analysis of the game, hopefully an Arsenal win.
Come on you reds.
In the unlikely event that you enjoy reading me babble on and on about Arsenal and football and stuff, leave a comment below, I will reply back to you. Feel free to disagree with me on anything – that's fine, however it would be most appreciated if you could refrain from using any abusive language.
Fancy a flutter on the game? Claim your £10 welcome bonus at Sky Bet and enjoy some of the best match odds in the business.
Other News
Manchester United are trying everything to land Barcelona midfielder Frenkie de Jong, Sky Sport...

Arsenal are leading several clubs in the pursuit of Manchester City forward Gabriel Jesus,...